Brew with a purpose
Entrepreneur harnesses coffee to help Ethiopian farmers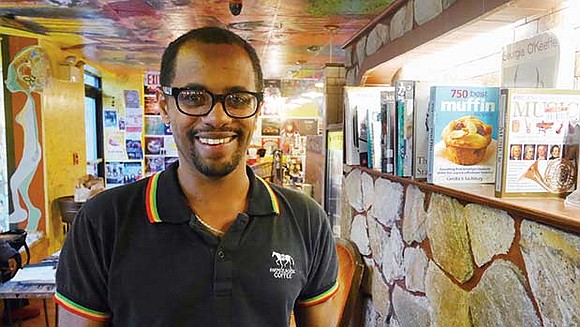 "The only thing I know is coffee," says Kassegn Sirmollo, owner of Farmer's Horse Coffee, where the brew is made with beans grown in his native Ethiopia.

Sirmollo grew up on a southern Ethiopian farm. As a child, at harvest time he loved to sample the coffee trees' sugar-sweet red "cherry beans" before the green coffee beans were extracted, dried and sorted in preparation for roasting.
His family roasted beans at home, he says. Serving coffee to visitors was an important ritual, with his mother presiding and the children helping.
"If you were a guest in my house, the first thing my mom would do is prepare the ceremony of coffee," he explains, speaking over the bustle of conversation and music in the cafe on a recent afternoon. "Every kid who grows up in Ethiopia does one of these things to help — you roast, or you grind, or wash the beans, or serve coffee to the guests."
With Farmer's Horse, he aims to share Ethiopian coffee and to offer a welcoming vibe for his customers, many of whom are students and faculty at nearby New England Conservatory and Northeastern University or T riders who get on and off at the Mass Ave Station of the Orange Line.
The coffee Farmer's Horse serves includes Ethiopian regional origins such as Sidamo, Harrar, Limu and Yirgacheffe. The streaming music in the vividly-hued cafe reflects Sirmollo's preference for oldies — heavy on Motown, blues and R&B — but interspersed with Ethiopian music and, recently, Christmas selections.
Each morning, he or one of his two part-time employees serve up a steady stream of coffee and espresso drinks along with baked goods and bagel-and-egg sandwiches. As the day goes on, lunch specialties include a sweet potato and tomato sandwich with goat cheese, red onion, avocado and spinach. On weekends and evenings, the cafe, which seats 20 to 25 people, is often filled to capacity with students studying and tables of friends chatting or working on group projects.
Education — and a mission
In truth, Sirmollo, who turns 33 this month, knows a lot more than coffee. After arriving in the U.S. as a teenager with his family, he earned a bachelor's degree in mechanical engineering and a master's in applied mathematics, taught math for a time, and learned-by-doing while launching and growing his business. A self-described handyperson, he built out much of the cafe space himself, he says.
Between college and graduate school, Sirmollo needed a break and wanted to follow a yearning to somehow help Ethiopia, where rapid population growth has worsened problems from hunger to clean water shortages to lack of basics such as shoes. In 2011, he flew to California and proceeded to bicycle across the U.S. back to Boston. During the 63-day journey, he spoke to people everywhere to raise awareness of poverty in Ethiopia.