Activists demand greater say in BPDA Dorchester plan
Demonstrators interrupt planning meeting, call for 6-month moratorium
Yawu Miller | 12/6/2017, 12:02 p.m.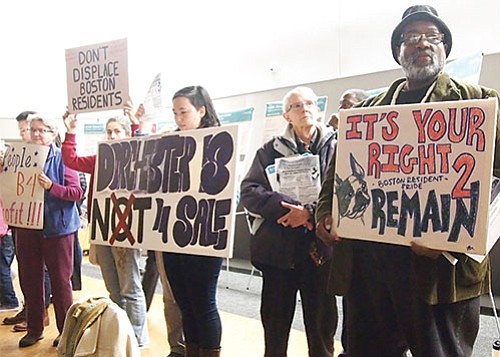 A call for community input, translation
Andelman and other residents say the BPDA planning process so far has had too little input from the businesses and residents who would be affected by the plan. The majority of the businesses along Dorchester Avenue are owned by Vietnamese and Cape Verdeans, yet the BPDA has done little to provide translation services or distribute flyers translated into their languages, Andelman told the Banner.
Then there's the nature of the planning process itself. With presentations delivered by BPDA and city officials, most of the community input happens in small tables, a planning strategy BPDA critic Shirley Kressell says doesn't allow for a free-flowing exchange of ideas.
"It's all just a bunch of individual comments, briefly scribbled on a big sheet of paper and quickly blurted out going around the room, by one of the group members as s/he decides to represent the group," she said in a recent comment on the PLAN: Dudley Square process posted on the Banner's website. "Lots of 'public participation' — in nothing."
Dorchester resident Carolyn Chou, who has participated in the BPDA's Glover's Corner planning process, said many residents she has met with feel similarly.
"They feel that their opinions are being dismissed," she said. "The way they do this process forces you to pick between their options instead of sharing your own opinion. If people asked a question outside of the activity, it was dismissed."
Things came to a head in October after Chou, Ramos, Andelman and other activists in their coalition met with the BPDA and asked for data on the demographics of the planning area in addition to the six-month moratorium on the process. After the activists in November sent a letter asking for a response to their requests, they say they received no reply.
Following the disruption at last week's meeting by the activists, Lara Mérida, BPDA's deputy director for community planning, told reporters that much of the data the activists are asking for is currently posted on the BPDA website. The activists' demand for the data to be broken down further has not been completed yet, she added.
"It's just a lot of information to try to compile," she said. "We are going to continue working with them."
But Mérida said the BPDA is not open to the six-month moratorium the activists requested.
"I think a moratorium is tricky, because we're all trying to learn from each other," she said. "The planning exercise, making sure that we're reaching out to people — there needs to be a constant conversation. So, I wouldn't want to have a moratorium on conversations."
But Chou said without more comprehensive information, the Lego planning exercises, small group conversation and sticky note comments won't constitute a meaningful process.
"People can make informed decisions if they're given all the information," she said. "It's doesn't feel like that's happening in these meetings."