Activists demand greater say in BPDA Dorchester plan
Demonstrators interrupt planning meeting, call for 6-month moratorium
Yawu Miller | 12/6/2017, 12:02 p.m.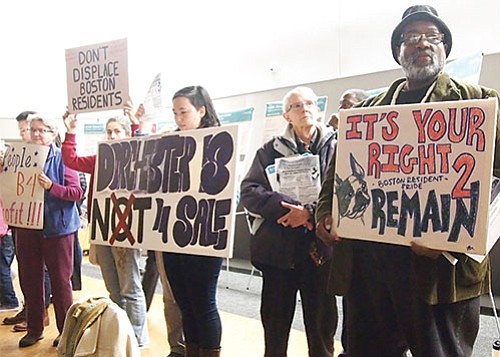 For much of 2017, the city's planning process for the Glover's Corner section of Dorchester has followed a familiar playbook: city officials, civic leaders, developers and neighborhood residents gather in a series of meetings designed to elicit opinions on possible land uses.
Participants gather around tables and place color-coded Legos on maps, apply sticky notes to poster boards and use other prescribed means to voice support for land uses and transportation priorities or raise concerns about issues such as housing affordability and displacement. The participant feedback so far for PLAN: Glover's Corner is summed up on a two-page document on the Boston Planning and Development Agency website.
During a BPDA-hosted public meeting last week, that familiar playbook was upended as activists from a coalition of community groups and neighborhood associations interrupted the meeting, grabbing the cordless microphone and demanding a six-month moratorium on the city's planning process.
"We don't want to just come to meetings so that you have our names and information on a sign-in sheet. We want a real process," said Mimi Ramos, executive director of the Fields Corner-based New England United for Justice. "We deserve a seat at the table. We want a real, authentic dialogue."
The intervention mirrored similar tactics used by Jamaica Plain activists during the BPDA's Plan: JP/Rox process. And like Jamaica Plain, the Glover's Corner section of Dorchester is facing development pressure, fueling fears of rising housing prices and displacement. The BPDA has already greenlighted a planned 300-unit market-rate development called DotBlock, which area residents say could exacerbate already rising rents in the area.
Jamaica plain
In the Jamaica Plain process, activists interrupted meetings, sought and secured a months-long delay in the process, pressed for better translation services and eventually pressured the BPDA to agree that 40 percent of the units developed in that area – between Jackson Square, Egleston Square and Forest Hills – would be affordable. But in its plan for South Boston's Dorchester Avenue area, barely a mile from Glover's Corner, the BPDA baked only 13 percent affordability into its plan.
The Glover's Corner area runs along Dorchester Avenue from Freeport Street to Savin Hill Avenue and includes Pleasant Street between Hancock Street and Savin Hill Avenue. Currently, just 25 percent of the area contains housing, with commercial uses occupying 41 percent and industrial 17 percent of the land. As is the case in South Boston, real estate developers are eyeing the industrial parcels for residential development. With market rate rents in Boston averaging $2,800 a month and the median sales prices for homes at $571,000, areas like Glover's Corner have become more attractive to developers.
But the residents who demonstrated at last week's meeting said they fear the city's planning process could fuel more speculation in the area.
"We're already seeing some of the impact of development in the Bowdoin, Geneva and Meeting House Hill areas," said Dorchester resident Davida Andelman. "Rents are now $2,300 and up. We're concerned about people who've lived here a long time not being able to stay."