Boston Public School teachers rally to support DACA
Karen Morales | 8/24/2017, 6 a.m.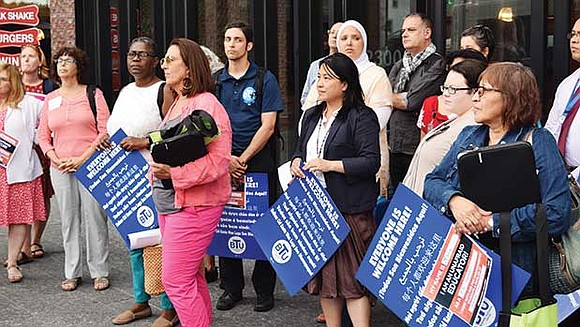 It has been five years since President Obama signed an executive order protecting those who were brought into this country as a minor from deportation. Under the DACA policy, or Deferred Action for Childhood Arrivals, undocumented youth have been able to thrive in the U.S. by legally applying for work permits and attending college.
On this anniversary, however, Boston Public Schools educators fear the outcome of DACA, which has been threatened by the Trump administration. They are apprehensive for the futures of some of their students, many of whom are among the best and the brightest in their schools.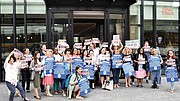 Led by Attorney General Ken Paxton of Texas, 10 state attorneys general have challenged the constitutionality of the immigration policy. According to a letter addressed to Attorney General Jeff Sessions, the state of Texas is planning to sue the federal government if they do not repeal Obama's 2012 executive order by Sept. 5.
"We are heading into a showdown where we might see hundreds of thousands of young people lose their status right in front of us," said Liza Ryan, organizing director for the Massachusetts Immigrant and Refugee Advocacy Coalition.
"They are our friends, neighbors and possibly some of your students, and we need our federal government to know that we will not stand for this," she said.
Since 2012, almost 800,000 people have registered under DACA, according to data released by U.S. Citizenship and Immigration Services.
This week, educators from the Boston Teachers Union gathered outside Roxbury's Bruce C. Bolling Municipal Building to demonstrate their support for the continuation of DACA and raise awareness to the community.
"Educators are witnessing this issue firsthand," said Ryan during the demonstration. "In the days after the election, they saw huge spikes of absentees, students in classrooms anxious and unfocused, and students faking illnesses because they're afraid their parents won't be home when they get back from school."
Some teachers want to be the public and vocal allies for their undocumented students — or "Unafraid Educators," as the BTU subgroup calls itself.
"It's imperative that we are outspoken about injustices facing immigrants, but also it's important for our immigrant community to know that we stand with them and support them," said Farah Assiraj, Director of Organizing for Boston Teachers Union and Unafraid Educator.
"They are welcome in our schools and they enrich our lives and experiences daily with diversity in cultures, languages and global citizenry," she said.
As someone who was an undocumented student herself, Assiraj personally identifies with immigrants' rights. "[I] graduated high school hopeless and in fear, [but] it gave me hope to see the progress we made under DACA act," she said. "We want to sustain the progress made and continue to educate students who through no fault of their own are being deported for overstay of visas or other means of entry at a young age."
"Give them a chance to succeed and they one day will achieve their dreams as doctors, engineers, scientists, teachers, construction workers, designers, artists," said Assiraj.