City seeks restaurateur tenant for prime Dudley real estate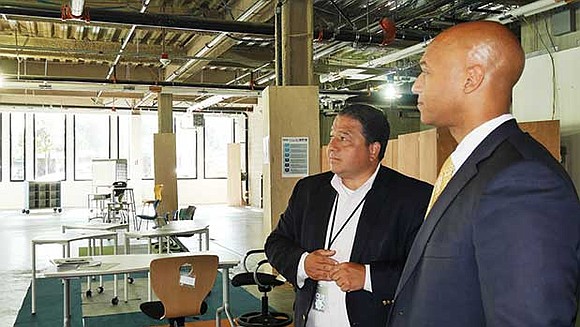 The survey also revealed that residents routinely spent their dining dollars outside the neighborhood at full-service restaurants such as Friday's, Olive Garden, Applebee's and Legal Seafood, suggesting that if an appealing alternative opened in the heart of Dudley Square, some of that money could be kept within the neighborhood.
With these things in mind, city officials made sure the building's design included a large commercial space. At the site last week, Barros and BPS Chief of Staff Rob Consalvo pointed out ventilation ducts and electrical panels that were built in to make it restaurant-ready. As an added attraction, the wide sidewalk could hold outdoor tables, they noted.
Building an ecosystem
The right restaurant in this key location could serve as a welcoming "agora" of sorts, said Steve Grossman, CEO of the Initiative for a Competitive Inner City, referring to the ancient Greek word for a center of athletic, artistic, spiritual and political life.
"I have absolutely no doubt that if the city can recruit a restaurant that appeals to the neighborhood and to people outside the neighborhood, it would create sustainable business activity that would radiate well beyond the restaurant itself," he told the Banner.
Grossman's organization, headquartered in Dudley Square near the Bolling Building, studies what makes urban economies and businesses thrive. While ICIC has not analyzed Dudley specifically, Grossman sees potential here for the type of business cluster shown to catalyze economic development.
"It's all about the ecosystem," he said. "Food clusters are destinations that bring traffic and energy, excitement, profits and — not surprisingly — a growth in good-paying jobs. When a restaurant is created and they hire people, overwhelmingly it's people from the neighborhood."
A tricky balance
Despite the benefits, luring a "destination" restaurant that brings in dollars from outside but also serves as a community-friendly spot for locals can be a tough balancing act. For instance, community members hope to see local entrepreneurs, rather than a large chain, occupying this highly-visible location — but given the high build-out and rent costs, there's a good chance that only a well-moneyed, established entity could take on the risk. The nearby South End neighborhood is often cited as a successful restaurant district but also as a prime example of over-gentrification and displacement.
Local stakeholders expressed a mix of optimism and concerns about the prospects for a restaurant filling to the Bolling Building vacancy.
Fred Fairfield, a longtime local contractor and developer who has served on the Dudley Square Main Streets board and the Dudley Vision Advisory Task Force, suggested that while he would like to see a jazz club in the space — especially one that served lunch and displayed local art — an alternative could be a food court like that of South Shore Plaza, which includes sit-down options.
"I always thought to get the space activated, we could put in a food court with many different restaurateurs there that could survive with each other," he said. "It would be great for people working in and around Dudley and it could help [smaller] restaurants stay in the area."