45 Townsend project sparks neighborhood ire
Locals object to density, lack of parking
Yawu Miller | 8/23/2017, 10:29 a.m.
Members of the Kensington Investment Company's 45 Townsend Street team displayed a 3-D rendering of their planned housing development at a meeting last week, and discussed its features: indoor and outdoor public spaces, an orchard on the premises, and the three large energy-efficient buildings they plan to construct on the site of the former Radius Hospital.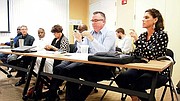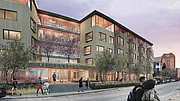 Community members listening to the presentation during a Boston Planning and Development Agency meeting last week questioned the impact the 300-unit project would have on their densely-packed residential neighborhood, with its paucity of parking spaces and congested intersections.
Like many planned housing developments in Boston's residential neighborhoods, 45 Townsend Street underscores the tensions facing the administration of Mayor Martin Walsh, which is presiding over the largest construction boom in decades as it races toward its goal of 53,000 new housing units by 2030.
Developers like Kensington are taking advantage of the city's expedited permitting system and a strong demand for rental housing in Boston. Neighbors are facing tough battles as they seek to preserve the character of once-quiet residential streets threatened by multi-unit projects that they fear will forever alter the character of their street, further exacerbating parking and traffic woes.
For 45 Townsend Street, Kensington is proposing 220 units of parking for 311 housing units, a mix some neighbors say will make it much more difficult to park their cars.
"There is no parking as it is, and Radius has been abandoned for a while," said Nefertiti Lawrence, who lives next to the planned development and sits on a BPDA-appointed project review committee.
Lawrence also questioned Kensington's plan to site a café and a public space in the planned development, which is not zoned for commercial use.
"The café is in the middle of a residential street," she said. "Where are people going to park when they're visiting?"
"I don't see people driving to it," said Charlotte Lewis, vice president of Kensington Investment Company. "I see people walking to it."
An outburst of objections from the more than 40 community residents in the meeting room at the Central Boston Elder Services building in Dudley Square interrupted Lewis' explanation.
"I think the trend is showing that people are not using their cars to go to work or to visit friends," Lewis added after the audience outburst.
While audience members voiced concerns about the density and mass of the development and the shadows it would cast on the surrounding neighborhood, their views on parking dominated the meeting. That should have come as no surprise to the development team. Abutters have raised parking issues in a series of meetings with the development team over the past months.
The Kensington team had originally proposed just 180 parking units.
"We've gotten it up to 220 now, so we're still trying to figure it out," Lewis said.
Impact Advisory Panel member Jed Hresko, who lives on the next block of Townsend Street, questioned whether the density proposed in the 45 Townsend Street development is allowable under zoning laws.