The hard work of winning at Caribbean Carnival
Karen Morales | 8/18/2017, 6:01 a.m.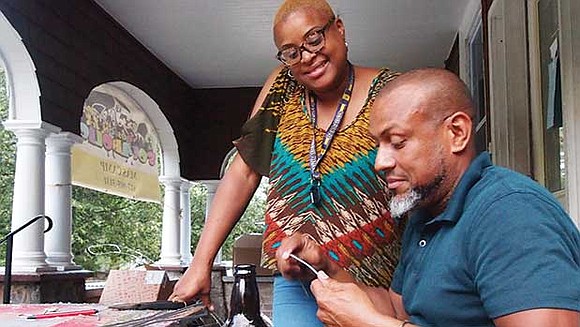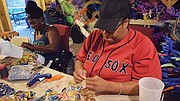 The Boston Caribbean Carnival is a beloved annual tradition filled with pounding soca music, thousands of dancing participants, brilliant colors and unbelievably extravagant costumes.
But the period leading up to the joyous celebration is no walk in the park, especially for Socaholics, one of Boston's biggest masquerade bands.
Andrea Mercury, who founded Socaholics with her husband Ken, describes in detail the kind of work necessary to create such a fantastic and vibrant display at Carnival.
"Our team is made up of 10 dedicated members who work on making the costumes," she said. "And we all work full-time jobs so by the time we get back from work, we continue on until one or two in the morning."
Every year, the band makes 200 to 300 costumes to perform in, with this year having the biggest turnout of over 300 dancers.
"Especially coming down to the last month of Carnival, we end up having 16- to 18-hour days," said Mercury, who works as an accountant for a law firm.
The costume production usually starts at least seven months in advance, but the creative process is constant. "When Carnival season ends in August, we take a month to relax, but when October comes around, we start thinking about what we're going to do," said Mercury.
Mercury, who was born in Barbados, started Socaholics in 2011 as a T-shirt band. Just a year later, it launched its first costume line. Kieran Prescott designs the adult costumes and Ingrid Gitten designs for kids.
At Carnival, competing masquerade bands (referred to as mas bands) are judged on their costumes and presentation. The best presentations follow a coherent and creative theme. Socaholics' theme this year is Toxic: beautiful but deadly.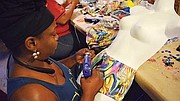 Band members construct and assemble the costumes at their mas camp, or costume workshop. Often located in a bandleader's backyard, mas camps are lively and buzzing with labor and people socializing. Ken Mercury, a contractor by trade, constructed a large shed in which band members sew, glue and staple the feathers, rhinestones, streamers and glitter that make carnival costumes shine in the August sun. On the front porch of their Dorchester Victorian, Ken bends wire frames that will support some of the band's more ambitious designs.
With just a few weeks left until Carnival, Prescott, who works in mortgage operations for a bank, is busy making costumes for the elite section of the band that will be playing vixens. Vixens are known as seductive but untrustworthy.
Prescott has been designing for Socaholics since 2013. He came up with the idea of calling the section "elite" because it only has eight dancers. "It's the section you see first when the band comes up and they have the most exaggerated costumes," he said.

The band has five other sections with up to 60 players. Each section will be masquerading as different creatures or humans.
"I wanted to present things of the world that are beautiful but deadly or poisonous in some way," said Prescott.
The other five sections will be playing the mandarin fish, the viper snake, zoanthus coral (colorful but contains toxins) and the nymph.