Learning entrepreneurship
Students get advice from experts as part of ¡Emprende!
Karen Morales | 8/16/2017, 10:01 a.m.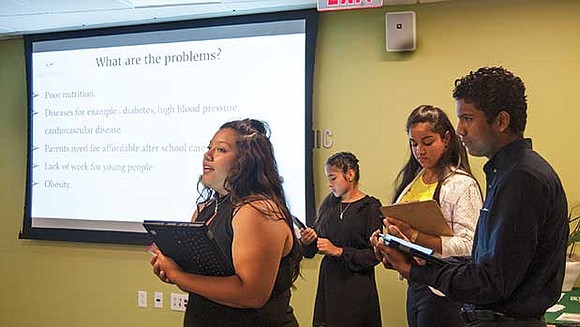 Students from Boston high schools presented five business ventures at Babson College to a panel of judges and an audience of mentors, teachers, family, and supporters last week.
These young entrepreneurs happen to be English Language Learner students who were trained in creative problem solving, critical thinking, marketing, design and coding throughout the previous five weeks.
The curriculum was a part of a program called ¡Emprende!, which translates to "launch" in English. ¡Emprende! operates in partnership with the Verizon Foundation and Sociedad Latina.
The 25 rising sophomores were mentored by five Babson College students and taught by two BPS teachers.
At the venture presentation, each team described a problem, how their business would solve that problem, what resources they would need to fund their business and their marketing strategy.
Their judges were: Jennifer Bailey, professor at Babson College; Rob Consalvo, Boston Public Schools chief of staff; Lauren Fraher from First Republic Bank; Denise Korn, founder of Youth Design; and Ann Zacarian from Greater Boston Food Bank.
The panel provided feedback and scored each team on their idea and presentation performance.
A representative from Sen. Sonia Chang-Diaz's office also was present to award the students certificates of achievement for completing the course.
One group of ¡Emprende! students pitched their idea for NuChildren, a nonprofit after-school program for children ages 8-14 centered around nutrition and exercise. Through education and programming, NuChildren would combat poor nutrition and health diseases as well as provide jobs for teens. It was created by Katherine Maldonado, Nestor Fajardo, Karolyn Jimenez, Vanessa Alvarado and Iris Aguilar.
"Entrepreneurship can be about helping the community and solving problems for the world," said Maldonado. "I never thought about business in this way."
Another venture presented to the judges was Tu Cultura, a Boston restaurant and smart store that would use technology to better enhance customer shopping experiences. Students Victor Rivera, Franchesca Moreta Lara, Chrisly Arias, Nayelie Acevedo and Darianny Tejeda emphasized sale of food items from around the world for shoppers that desire cuisine from their native countries.
Innovating Business was created by Rima Begum, Lwamba Loochi, Mohamed Dia, Derianny Tejada and Donovan Archelus. It's an idea for a website and app that connects restaurants with job-seeking chefs. The venture also would promote small business restaurants and allow users to look at demographic data in Boston to find opportunities close to their culture.
Next in the lineup was El Sazon Restaurant, presented by Reynaldo Alvarado, Perla Perez, Ruth Gomez, Muricio Cabral and Linda Valette. Their idea was to open a Latin restaurant that would make authentic food from a large variety of Latin countries and donate leftover food to local homeless shelters.
Valette said that although she may not want to become an entrepreneur, the skills she learned will be helpful in other endeavors. "I actually want to be a robotics engineer but I still thought this program would be helpful if I ever want to build my own product and sell it," she said.
And then there was Minute Market, pitched by Deondre Rodriguez, Desir Lawins, Katerin Ramirez, Luis Fajardo and John Remo Gene. Minute Market is a user-friendly app platform that would seamlessly integrate grocery shopping and product delivery. The group said their venture would be perfect for busy single parents or persons with disabilities who have trouble navigating large stores.