A strong start for Brazo Fuerte Artisanal Beer
Attorney leaves corporate world to open craft brewery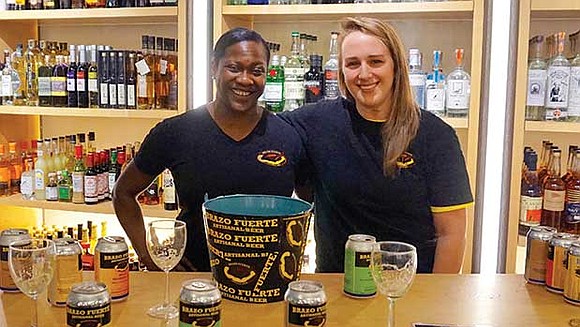 Brazo Fuerte has one employee so far, Director of Operations Raylen Dziengelewski, who assists with tastings, distribution, marketing and social media. Armstrong likely will hire more people when her own facility is ready to go.
Starting a brewing business and building out a brick-and-mortar facility is no small endeavor. A 20-barrel system of vessels for milling, mashing, boiling and fermenting grain will require 15 or 16 feet in height and a floor area of 50-by-50 feet. And then there are the kegs, canning equipment and space for storage.
In addition, Armstrong has a keen interest in ecological sustainability. Besides eventually having her brewery certified organic, she intends to take measures to minimize energy and water use. A major goal is to have her operation be a "green technology laboratory," she says.
In November, Brazo Fuerte got a boost when the business plan won Armstrong entry to the Samuel Adams Brewing the American Dream program, which connects up-and-coming food and beverage companies with funding through the microlender Accion. As a further part of that program, Armstrong was singled out for the 2017 Brewing and Business Experienceship, which will provide coaching and mentoring tailored to the brewing industry. One of the first benefits was a scholarship to attend last fall's "Beer, Bratwurst and Beyond" tour in Germany sponsored by the Pink Boots Society, a nonprofit working to inspire and assist female beer professionals.
From all-organic ingredients to names, Armstrong's products exude personal tastes and experiences. Brazo Fuerte — meaning "strong arm" — is a nickname given to Armstrong by rugby teammates while playing in Spain. Her beers' names have stories behind them, honoring teammates, friends, dogs.
"This is not a manufactured brand," she states. "Every single element comes from my heart and from my passion for beer, my love of rugby, my love of dogs."
Worth the risk
As for advice to would-be brewing entrepreneurs, Armstrong says that while turning this passion into a business brings her joy, it is not something to take on lightly.
"It's an incredibly intricate process, not for the faint of heart," says Armstrong, speaking of the physical setup along with the federal, state and city licensing hurdles and the overall costs. While she had a bit of a financial cushion after her decades of professional employment, future earnings are an unknown.
"It's definitely still a leap of faith," she says. "[But] I put a lot of work into understanding the industry and the prospects. I believe that 'If you make it, they will come.' It's an incredible amount of work. I wake up doing beer, I go to sleep doing beer. But if you have a passion, that's what you prepare for – there's no quitting time. It's worth the risk. To make people happy with beer is incredibly satisfying."