A strong start for Brazo Fuerte Artisanal Beer
Attorney leaves corporate world to open craft brewery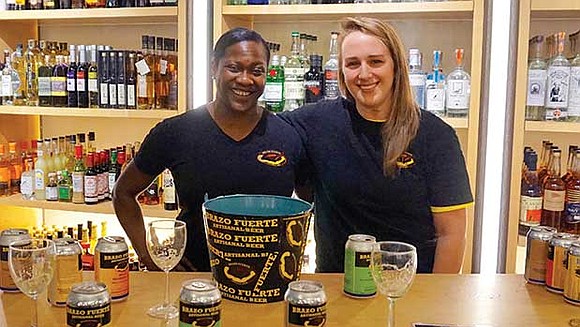 Bev Armstrong, founder, CEO and head brewer of Brazo Fuerte Artisanal Beer, knows her career path is unusual. The Harvard-educated attorney and MBA made a "complete left turn" into entrepreneurship, hanging her shingle as a fulltime craft beer brewer in 2016 following a 15-year stint in the biotechnology industry in such high-level roles as CFO, general counsel and VP of operations.
Along the way, she also took up rugby with a passion, competing semi-professionally for 15 years.
Yet, says Armstrong, who recently was selected for a coveted Samuel Adams Brewing and Business Experienceship, there are more similarities than meet the eye. Crafting a high-quality beer requires dedication, passion and more than a little understanding of science, from microbiology and chemistry to thermodynamics.
"People think brewing beer is a simple process, but it's actually very complex," she tells the Banner. "It offers as much art and science and creativity as you'll find in any industry, and as many challenges as in biotech. It's a very underestimated liquid — and industry."
Armstrong's pursuit of the perfect brew stems from her rugby experience. In the traditional post-match gatherings, raising a few glasses with the opposing team, she wished for a lower-alcohol but still intensely flavorful beverage — one that would be amenable to sticking around and socializing awhile. Nowadays there's a term for that: "session" beers, which typically have an alcohol volume percent of 4.5 or less.
The New York native who dwells now in Watertown took up home brewing about 11 years ago. She started with small batches, shared with friends. She became certified as a beer judge and as a cicerone, a beer expertise similar to that of a wine sommelier. Now, her line of Brazo Fuerte session ales is sold at some 40 Boston area restaurants, bars and stores.
Beyond her rugby background and sharp career shift, being a woman — and especially an African American woman — makes her stand out even more among the 5,000 or so craft brewery owners in the U.S.
"I'm absolutely atypical in a room of brewers," she acknowledges. "I'll go to a conference where there are 10,000 or more people, and there are not very many others — or frankly, no one — like me."
That rarity, she says, has neither hindered nor aided her as she's worked to craft and publicize her beers.
"Showing up with good tasting beer is what's helped," she says. "I found that once people figure out you're serious and you know what you're doing, they're incredibly helpful and collaborative."
Growing a green business
For now, she is a contract brewer, paying to make her beer at a friend's brewery in New Hampshire. Production volume is small but growing. Her current target is to reach 500 barrels in the coming year, but she estimates she could easily provide twice as much if she had her own space. She is on the lookout for a location where she can open a brewing facility in Watertown or the nearby Allston-Brighton area of Boston.