Developers break ground on Bartlett Station project
Plan calls for 60 percent of units to be affordable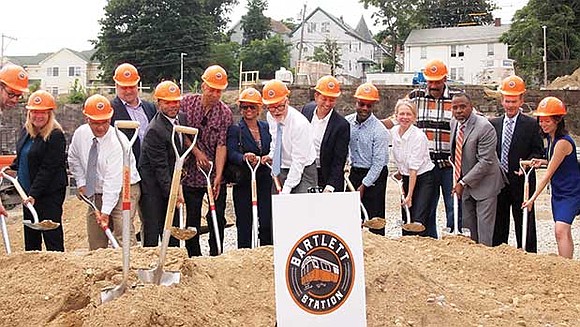 Community impact
While large developments often raise fears that surrounding rents will skyrocket and long-time residents be pushed out, many speaking at the groundbreaking heralded Bartlett Station as an opportunity to provide current community members with new assets. City Councilor Tito Jackson said the project marks an instance of Roxbury receiving the same attention that other parts of the city enjoy, and praised it for going beyond the standard requirement that 13 percent of onsite units be affordable.
"Two-thirds of what's going to happen here is for the people in our community," Jackson said. "This is about our neighborhood and our community being respected."
Sheila Dillon, director of the Department of Neighborhood Development, said it is critical for Boston to keep pushing creation of affordable housing, otherwise "we're going to lose people."
Many speakers during the groundbreaking ceremony took time to comment on the intensive community involvement in shaping development plans. While tensions had at times run high, the result, they said, was a project truly for the people. Michael Miles, project review committee co-chair, said the final project is shaped around desires for local wealth generation, including local business opportunities and mixed-income housing. Tolentino said Roxbury already has a strong supply of affordable housing and praised this project for providing units available to higher earners, which would allow local families to remain after their incomes increase.
Windale's Arnold Johnson said the project also brings income to the community. Bartlett developers seek high levels of local and minority participation: Currently 40 percent of contracting is with minority-owned business enterprises and developers aim to reach 50 percent. Local retailers are expected to rent portions of the commercial space and 57 percent of contracting is with Boston residents thus far.