Advocates rally against housing budget cuts
Trump, Republican-led Congress put forward plans for deep budget cuts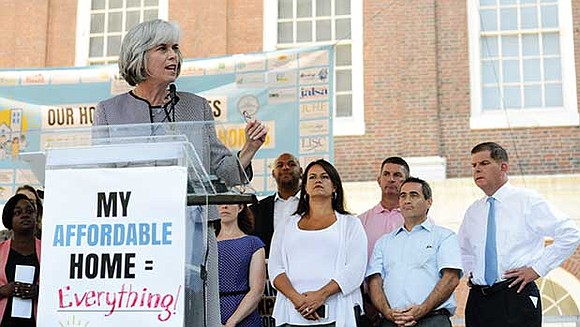 Trump's proposed budget decreases Dept. of Housing and Urban Development (HUD) funding 13.2 percent overall. It would eliminate more than 250,000 Section 8 vouchers, eliminate the CDBG program altogether and raise rents for low-income households now receiving federal rental assistance, according to the Center on Budget and Policy Priorities.
The House Appropriations Committee's proposed HUD budget has cuts less drastic than the president's budget, but still would cut 140,000 Section 8 vouchers. The CBPP's state-by-state analysis estimates that in Massachusetts, even the House bill would cut 5,217 housing vouchers. Such reductions in rental assistance would have a ripple effect on efforts to combat homelessness, the CBPP says.
On a more positive note, the Senate Appropriation Committee's bill protects many housing programs. It preserves funding for Section 8 vouchers and many other programs, including CDBG, Homeless Assistance Grants and the Public Housing Capital Fund, and increases funds for some others. However, the Senate Bill still reduces funds for the Choice Neighborhoods program and the Public Housing Operating Fund.
Which of these scenarios play out remains to be seen, said Michael Kane, executive director of the National Alliance of HUD Tenants. The House and Senate bills will need to be hashed out and resolved in a Conference Committee, but there are various "wild cards," Kane said, such as Sen. Paul Ryan's budget resolution and alternative proposals, such as the People's Budget devised by the Congressional Progressive Caucus. While the budget wrangling is supposed to be wrapped up before Oct. 1, the start of the fiscal year, often this does not come to pass, and Continuing Resolutions extend the process.
At the rally, speakers expressed urgency. The on-the-ground reality witnessed by advocates and residents is that many assistance programs already are underfunded. They are unable to meet current need, much less withstand cuts. An oft-cited fact from housing advocates, also mentioned on the CBPP site, is that even now, without these new proposed cuts, only one-quarter of households eligible for housing assistance actually receive it.
In an interview, CHAPA's Heller put it bluntly: "The main problem is that the funding is completely inadequate for the need. The House and Senate proposals do not include a lot of the most harmful cuts, but they're still not at the level needed. ... If we continue on this level, the programs are going to shrink. And we have an increasing need. This is not the direction we can afford to head in."
Nilya Montalvo, director of leadership and community building at Homes for Families, a statewide anti-homelessness advocacy group, spoke early in the rally and sounded an emotional note.
"I say to the powers that be: There is no excuse that justifies homelessness, no context in which it's totally fine to have people living in our streets, no scenario where it's okay to turn a blind eye and divest," she said. "We need you to increase and invest. Housing is a human right. ... There is no one that is unworthy of a place to rest their head, wash their face, cook a meal or keep warm when it is cold out."