Got game — and message: Lawrence-based indie game studio gears up for first release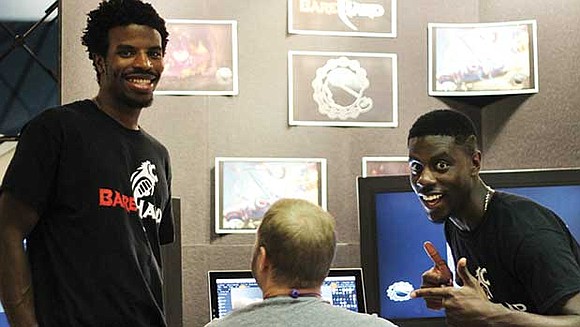 Jack said they seized on the idea of an oppressed laborer as an issue that would resonate.
"Our character would be kind of like a slave worker," Jack said. "Just putting in a lot of labor hours, because one thing we felt is, a lot of people just work an excessive amount of hours at work, doing hard labor and not really getting a big reward for it. That's something we connected to."
As the story goes, Seph is in charge of a planet, until his brothers overthrow and enslave him. Players pick up the story after Seph has broken free and is on a mission to repair the damaged planet.
Seph's visual design is modeled after Fedor Emelianenko, a champion mixed martial artist whom Jack and Carter said stood out for an unintimidating appearance that belied his skill, along with his humble response at the end of a ten-year undefeated streak. To the designers, he represents a fighter who values his gifts without getting carried away.
"He always told people, 'I don't want you to worship me or think of me as some kind of god, because I'm not. I'm a human being and because I'm a human being, I'm imperfect. I'm going to lose, I'm going to struggle," Jack said.
The teammates' Christian beliefs also influence the storyline via the moral choices evoked. The game avoids specific religious theology, which could put off non-Christian players.
Meaningful and fun
As Jack and Carter explored ideas of a protagonist in bondage and sought to incorporate Christian themes, they were inspired by the Biblical tale of Joseph, who was sold into slavery by his brothers. They extracted plot and theme elements such as jealousy among brothers and working on a farm, but there was just one problem:
"Alright, Joseph does farming, but … farming is not a fun activity," Jack said. "It takes time, it takes patience. … A lot of people don't like how tedious farming is."
What many players do like: action and drama. The balance they chose was to blend the story they wanted with the kind of gameplay their audience craves: Players fight monsters that explode into seeds, from which vegetation grows and helps heal the ruined landscape.
"You're in this wasteland, and by the time you complete your mission, you have this tropical utopia full of lush and beautiful crops and plants," Jack said.
That final kick
The main barrier to finishing the game is money, Jack said. Through their participation in Lawrence's Entrepreneurship for All business accelerator, BareHand members learned business basics, including how to identify their target customers. They've also pulled together grants and awards, but are not quite there. A successful Kickstarter campaign could make all the difference, they said.
Once everything is completed, the team plans to release Cede through Steam, a popular online game distribution platform