Got game — and message: Lawrence-based indie game studio gears up for first release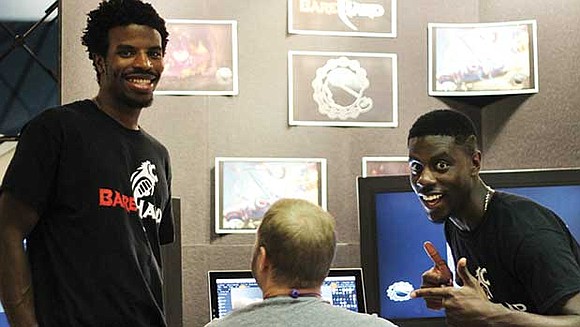 A fight between brothers has wrecked the planet, leaving it cracked and broken. Monsters roam the apocalyptic wasteland. And it's up to you to set things right. To save the world, you'll need to fight enemies, replenish the vegetation and restore your family — while you still can.
That's the premise of "Cede," a forthcoming video game from the Lawrence-based indie studio BareHand. Players take on the role of Seph, one of the brothers, and battle monsters that burst into seeds when defeated. Edwin Jack, game director and CEO, and Kris Carter, concept artist, said their game blends entertainment with ethics, striving to convey moral values and relatable characters alongside high-action fun.
"I really wanted to do something that connects with people or that has a purpose connected to our spiritual beliefs and Christian beliefs," Jack said in a Banner phone interview. "[But also] at the end of the day, it's a video game — it has to be fun."
BareHand's team comprises Jack and Carter as well as a writer, lead programmer and musician. When the team launches Cede's crowdfunding campaign on Kickstarter next month, they anticipate generating the last round of financial support they need to bring the game to completion. It will be the first game produced by the team.
BareHand
The BareHand team came together gradually, starting when Jack and Carter met while attending Washington Art Institute. Jack then went on to work for Warner Brothers Turbine, creating animations for big-name games such as "Lord of the Rings Online." When Jack was laid off, he seized the opportunity to fulfill a desire that had been burning within him while working for Warner Brothers — to make a game with personal resonance to him. As one of many workers in such a large firm, he was unable to shape the vision of the games on which he worked, but with his own small company, every team member's voice was important.

BareHand was launched in 2014, with both Jack and Carter recruiting talent they met through connections from various gaming and comic conventions. Ultimately, they built a small cross-country team that collaborates online.
Thus far, Edwin is the only one able to work full time, while other members make contributions as best they can. If the Kickstarter campaign is successful, it would help underwrite sustained effort to finish "Cede." They anticipate attracting both fans of action role-playing games (RPGs) and farming games, as well as parents seeking to provide their kids entertainment with a positive message.
Creating Cede
The game sprang from a character idea. Jack and Carter said they wanted to steer clear from a tale of superheroes combating overly-grand problems. Instead, they were looking for a flawed protagonist who faces relatable issues. To avoid aggrandizing, they never refer to the protagonist, Seph, as a "hero."
"You get this character, and he's not the most perfect character," Carter said. "You put him in a situation. How do you handle that? How do we handle that as humans? … We hope that will resonate with everybody as they play the game. We hope that they'll get to think about their own lives, as well."