Burger beef: 'Fresh' sounds best, but there's nothing wrong with frozen
Ari LeVaux, Flash in the Pan | 4/28/2017, 6 a.m.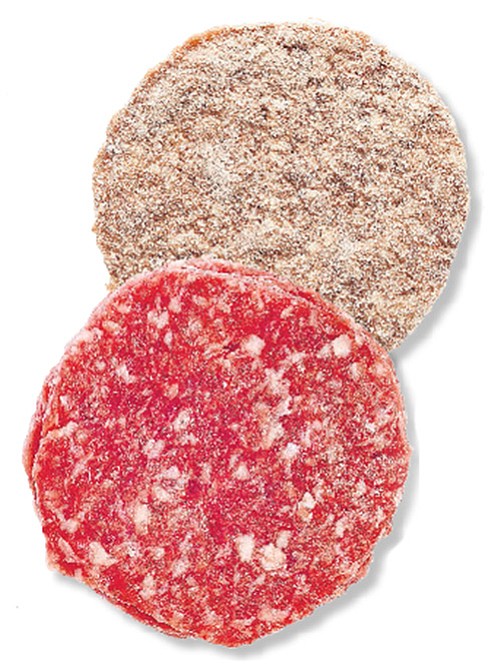 Ask any hunter, assuming he or she knows how to properly wrap their meat, how bad the burger is when it's four months old. They will laugh. Ask if any are disappointed in finding a piece of year-old elk backstrap (aka rib eye) in the freezer. They won't be.
It isn't some closely guarded secret that there is nothing wrong with frozen meat. But momentum of beliefs is a powerful thing.
Cooking tips
If you want to cook with frozen hamburger meat, you need about an hour lead time. That is the entirety of the inconvenience that using frozen burger will cause you.
You don't want to thaw it in the microwave, or in water that is so hot it cooks the meat. Submerge it in a bowl of cold water. If the frozen meat makes the water too cold, change it.

When the meat is soft, make your burger. Don't overthink it. Unlike Wendy's, you can make yours a little red inside, knowing that it hasn't been sitting around raw for days or weeks.
If burger patties are not in the cards, often you can just throw the frozen chunk of burger on a pan with oil, or under the broiler without oil. For dishes like soup or stew or meat sauce, a pan thaw or broiler thaw works fine. Depending on the cut, you have to stir it a lot, maybe hack at it with a cleaver. Don't burn yourself. And next time, try to remember to take it out of the freezer ahead of time.
Top-quality meat can be frozen as well, with all of the advantages, and none of the supposed downsides, that frozen burger meat has with respect to fresh. The only difference is that with a nice expensive cut like steak, you'll want to thaw it overnight in the fridge.
Ari LeVaux an be reached at flash@flashinthepan.net.