Isabella Stewart Gardner Rise Concert Series features Ysaye Barnwell and Esperanza Spalding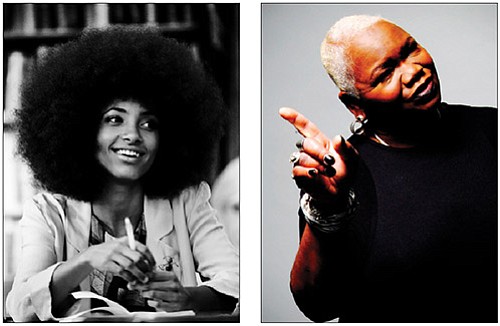 Barnwell, 70, is a female bass who uses her voice as if it were an upright acoustic bass, the instrument that Spalding, 32, most often plays while singing with her light, liquid alto. Although this concert was their first performance together, Spalding has said that her mother raised her to Sweet Honey recordings. Together with Santos and Peterson, Barnwell and Spalding demonstrated how with the simplest of tools — voice, strings and drums — musicians concoct sublimity.
The voice
Barnwell came first with a brief and powerful set. With her shaved head and sober, elegant attire — a black floor-length garment and a silver-threaded jacket that resembled a vestment, Barnwell had a priestly presence. She entered chanting the spiritual "Kumbaya." Carrying on a conversation with the audience, Barnwell explained that the old song was an invocation, and she treated the evening as a gathering rather than a concert. Sitting on a stool, she sang a ballad by Canadian folk singer Buffy Sainte-Marie, "Until It's Time for You to Go," to Peterson's delicate guitar accompaniment. Although the song tells of a woman who yields her dream of a lasting relationship for one destined to come apart, Barnwell's version purged the song of victimhood.
When Barnwell moved, it was with purpose, such as when, deftly backed by Peterson and Santos, she strode slowly while singing "The Star Spangled Banner" to the tempo of a funeral march, turning the national anthem into a protest song.
Bass
Spalding, who had been watching, began with a song that celebrated love, beating its rhythm with her hands on her bass. As she reached its final chorus, she leaned toward Barnwell and sang, "I'm falling in love with you right now."
A wiry young woman with a big Afro, Spalding wore a loose-fitting pastel dress and white platform shoes and handled her towering bass with light, bird-like movements that were as agile as her fast-moving vocals. Exuding warmth, joy and gleeful showmanship, Spalding demonstrated the range of her chops. While some of her selections were decades old, each sounded fresh and new. She nimbly performed a challenging bebop masterpiece by Bob Dorough, "Nothing Like You," and also sang a delightful version of Oscar Brown, Jr.'s high-spirited bebop hit, "Forbidden Fruit."

Recalling her first winter in Boston as a Berklee student, Spalding, a native of Portland, Oregon, said that she was "shocked" by the cold. Yet she was consoled by befriending students from all over the world and a song by Argentinean singer Liliana Herrero, "Cantore de Yala," which she rendered in a plaintive tone.
Many in the audience joined her as she sang "Black Gold," from her latest album, with its refrain telling young black women to "Hold your head as high as you can." Prompting a standing ovation, the song is an anthem in the making.
Barnwell injected her piping bass into Spalding's last song, the Stevie Wonder classic, "Overjoyed." As she and Spalding reached its closing chorus, with Peterson on guitar and Santos shaking a tambourine, the evening ended with an exalting finale.