Cosecha takes new tack on immigration advocacy by focusing on the people
Movement zeros in on opinions of public, not politicians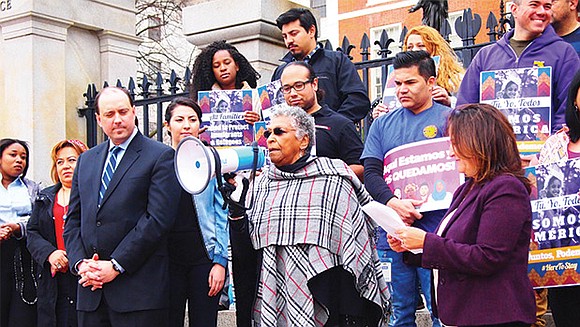 Four of them unfurled a 12-foot-long banner with the words "A day without immigrants" in Spanish, printed in block letters.
As the activists danced, Mota urged shoppers to join Cosecha for a planned May 1 general strike and school walk out. Others passed out cards in English and Spanish explaining the May 1 action. After a spirited ten minutes of dance, and seconds before a group of Area C police officers entered the Stop & Shop, the protesters headed outside, marching back toward Centre Street.
Two May Firsts
Cosecha's planned action for May 1 — International Workers Day — reveals a major departure between it and other immigrant rights advocacy groups. The May First Coalition, an alliance of groups such as La Comunidad and the Chelsea Collaborative, also is focusing on the date, but brings a more traditional activist approach.
The May First Coalition announced at the State House last week that it will hold an array of early evening marches in Everett, Lynn, East Boston, Springfield, Worcester, Fitchburg, Framingham and Brockton. Through these demonstrations, members seek to bring attention to a set of legislative agenda items and policy priorities. These include passage of the Safe Communities Act, workers protection measures, a $15 minimum wage and measures to make immigrants feel safer in their neighborhoods and opposition to a taxpayer-funded wall against Mexico. The May First Coalition's marches — starting largely between 4 p.m. and 6 p.m. — are scheduled for minimal interference with work schedules and students' extracurricular activities, Yessenia Alfaro of the Chelsea Collaborative, told the Banner.
Cosecha, meanwhile, aims to demonstrate the societal impact and economic power of immigrants by modeling on May 1 what an American without immigrants would look like. To achieve this, the movement is asking immigrants to stay home from work and school and to avoid spending money.
"We are striking because our fight is not in D.C. — it's in every home, business, and industry that takes advantage of our labor and consumption. By striking, we make it clear that this country cannot function without immigrants," the organization states.
Alfaro told the Banner that while the May First Coalition supports the message of Cosecha, coalition members would not replicate the call to stay at home. Alfaro said the coalition fears that spotty attendance records could damage students' chances at jobs later on and understands that many day laborers lack the job security to skip work without risking their jobs. As such, the coalition regards absenteeism as a personal choice that they would not request of anyone.
"As the May First Coalition the only thing we are not in agreement with [Cosecha] with to have kids not go to school…[and adults to miss work.]," Alfaro said.
Another significant strategy divergence between the two groups is that Cosecha eschews specific policy asks or direct appeals to politicians. Citing disillusionment with public officials who have failed to bring promised reforms, Cosecha members say they instead are putting their weight behind reshaping public opinion through acts of nonviolent non-cooperation.
"There's been policies and policies. We've seen anti-Muslim bans — that's the legislation coming out. There's tons of policy and a lot of policymakers," Mota said.
"[The movement was] developed by organizers who watched immigration reform stall in Congress for over a decades," the group's website states. The movement seeks to generate popular support for Cosecha's outlook and let policymakers develop measures to achieve it.
"How do they create a policy to ensure permanent protections for all immigrants?" Mota asked. "That's what the electeds' and policymakers' role is to do. And that's what we expect them to do. Were just telling them what we want."
Cosecha has announced intentions to hold a seven-day strike later this year.
Yawu Miller contributed to this story