City reveals capital spending plan
Funds school buildings, streets, libraries, parks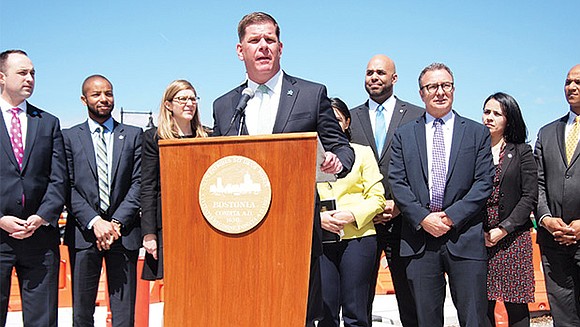 City officials say the proposed budget would direct funds to Go Boston 2030's core objectives of safer streets, better transit links between neighborhoods and more reliable transportation. Projects include a shaded off-street pedestrian and cyclist path between Roxbury and Fenway, better crosswalk and lane markings, and traffic signals that are more responsive to traffic flow in order to minimize time spent idling at stops.
"This is a huge opportunity to invest in the next generation of traffic signal technology," Chris Osgood, city Chief of Streets, told the crowd.
Under the plan, Dudley Square Main Streets is due for $9 million in improvements that include new traffic signal equipment and bike lanes. Upgrades also are aimed at better accommodating bikes on Melnea Cass Boulevard and making the street more pedestrian friendly, improving connection ways to Grove Hall, reconstructing roads in Madison Park Village and conducting a transportation study of Dorchester's Bowdoin-Geneva Avenue area.
Under the capital plan, the Dudley and Lower Mills branches of the Boston Public Library would receive improvements and a new branch would be established at Upham's Corner.
Franklin Park also is up for a complete renovation, with $28 million of project funding coming from the sale of the Winthrop Square garage, which has yet to be concluded.