Black firms tackle fourth largest hotel project in Boston
Diversity participation criteria may set national precedent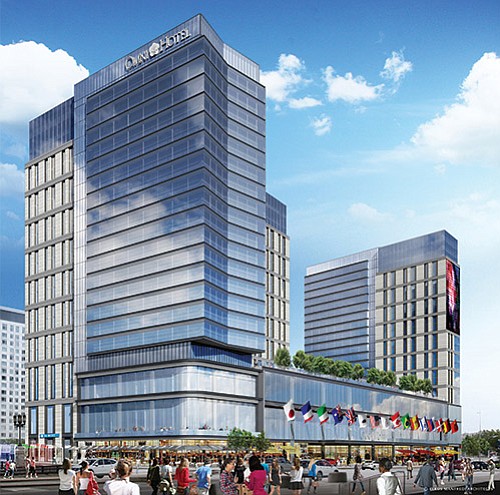 "There is no way to get in without [an opportunity like Seaport hotel,]" Taylor said. "You qualify if you have hotel experience. But if you never have a chance to get hotel experience, how can you qualify?"
The hotel also will be the first property in the Innovation District with minority ownership, Taylor said. Massport will provide a 90-year ground lease of the two-acre site, in exchange for $100 million and a share of the project's revenue.
"Hotels, office buildings, retail opportunities — nobody owns anything down there," Taylor said. "This is a game changer in that respect."
New model
While many agencies may say they value diversity, Massport stands out by assigning metrics. In its hotel request for proposal, bidders were judged based on an assessment of their ability to perform the work, financial capability, program quality and level of diverse business participation, with each criteria worth 25 points. The result: low or no levels of minority participation immediately set bidders at a disadvantage, thus spurring them to compete for greater levels of inclusion.
Taylor credits the strict language of the RFP with ensuring that minority engagement was more than tokenism and lip service.
"Minority entrepreneurs are optimistic, but without that [RFP] language, we would not be in that deal," he said. "This is great example of how the public sector, dealing with public property, can enhance the opportunity for the minority businesses to participate."
Turner described the language as cutting edge and sector-leading, and said it was not the only part of the project to break tradition. In another first, Massport's head of diversity was included among the four-member voting team selecting among project bidders.
To attain significant diversity on the project, Massport had to fight against a prevailing perception that Boston is unfriendly to minorities and women, which dampens diverse businesses' interest in the city. One method for addressing this was to engage Ernest Green of AFIG Funds as a consultant. Among other achievements, Green has been recognized as one of Black Enterprise's 2006 "75 most powerful blacks on Wall Street." Especially valuable to the project, Turner said, was Green's ability to reach out to an extensive nationwide network of black leaders and convey the message that Massport officials were serious about the diversity and an inclusive bidding process.
Six teams competed for the contract. They included a collaboration between Capstone Development —Washington hotel development company with black leadership — and Fallon Co., as well as a collaboration between Boston-based Accordia Partners, LLC and a Texas hotel developer. Two teams presented assemblages of minority and female investors.

Precedent set
The hotel project paves the way for use of similarly clear diversity language in the future, by demonstrating that the requirement usefully increases competition and does not deter bidders, Taylor said.
"You must imagine that when this kind of language was originally announced, there were people who'd say, 'Oh it'll chill the market, people will not participate,' " he said. "[But] it's proven to be project language that enhanced opportunity, not killed opportunity."
Turner said Massport already is using the hotel RFP language as a model for other major RFPs such as that for the Maritime Marine Terminal, with wording tweaked to suit project specifics. He said that while he cannot guarantee the same specific approach to project diversity, it will remain emphasized in future RFPs.
"This is not a one-off," Turner said. "This is how we're now going to operate an entity. ...The spirit and intent will be there each and every time we have a new RFP that goes out on a project of any significance."
The hotel
All financing is in place, Taylor said, with a significant level of funding coming from Omni, as well as placement from individual investors. When completed, the hotel will include two 20-story towers. There will be 120,000 square feet of event and meeting space. Features include pools and a 25,000 square foot main ballroom, as well as an 8,500 square foot spa and 40,000 square feet of retail and restaurant space. An underground tunnel connects the hotel to the Boston Convention and Exposition Center. Construction is expected to begin in 2018.