How to find your new favorite condiment, 'white balsamic'
Ari LeVaux, More Content Now | 4/14/2017, 6 a.m.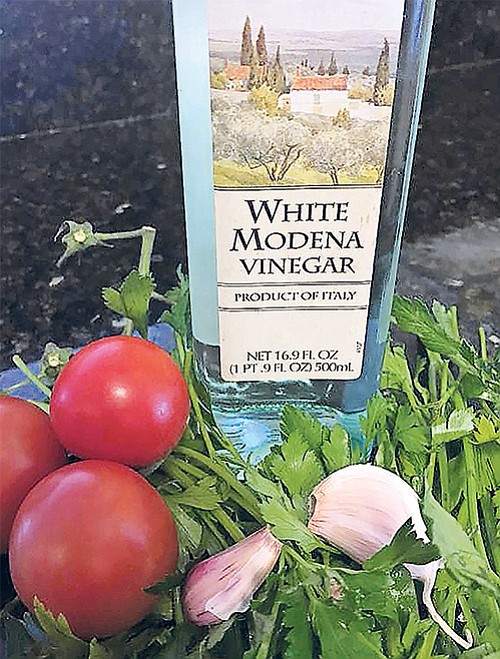 The word "balsam" refers to a sticky resin that leaks out of cut trees and is used in perfume and other aromatic products, and these types of woods help to explain why. Twelve-year old balsamic vinegar is the standard, though it's possible to find bottles that have been aged 20 years or longer.
The white version is much more of a common man's vinegar, and isn't available in DOP versions. With that said, if I had to choose just one for my pantry, I would choose the lighter.
How to use
While balsamic vinegar draws all the attention to itself, its lighter cousin does the opposite, so you won't find dishes built around it. It's a laborer in the kitchen: You can deglaze with it, and add it to marinades and even pickles.
I've written before about thin-sliced onions languishing in a white Italian condiment bath before being added to salads, and I stand behind that tactic. I'm also quite enthusiastic about drizzling some on my avocado toast, with olive oil, onion and tomato. More recipe ideas for the other white vinegar:
In my home, our biggest use for white Italian condiment is in salad dressing. We do a mixture of 3 parts olive oil and 1 part vinegar, with the vinegar portion consisting of equal parts cider vinegar, balsamic vinegar and white Italian condiment, with soy sauce to taste (optional). The pairing of three vinegars, two having balsamic tendencies, adds a sparkling depth to the dressing.
A simple Italian-style roasted red pepper snack: Halve and de-seed some red bell peppers and broil until the skin browns and blisters. Place in a paper bag and let cool for about 10 minutes. Remove the skins, slice peppers into bite-size pieces, and toss with olive oil, fresh pressed garlic, capers and white Italian condiment. Season with salt.