New York-based Golden Krust Caribbean Bakery & Grill comes to Boston
Jamaican food chain's next Boston site will be in Dudley Square
Mattapan residents, Greater Boston's Caribbean community and local elected officials celebrated the grand opening of Boston's first Golden Krust Caribbean Bakery & Grill on Saturday.
The Mattapan Square location at 1614 Blue Hill Ave. is the newest of more than 120 sites of the New York-based Jamaican-owned national fast food chain.
At the grand opening, the 26-seat restaurant was packed with enthusiastic customers and well-wishers, many of them Jamaican. While some enjoyed free samples of Jamaican patties and macaroni and cheese, many more lined up at the counter to buy plates of the chain's other specialties, which include jerk chicken, curried goat and braised oxtail.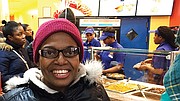 Golden Krust Caribbean Bakery & Grill was founded in 1989 by Jamaican-born entrepreneur Lowell Hawthorne, who came to the United States at age 21. Inspired by his own parents, who ran a bakery in Jamaica, Hawthorne and a large network of his family members pooled their resources to start Golden Krust. They began with one location in the Bronx, and within seven years, owned 17 restaurants across New York City. Today, Golden Krust is a multi-million-dollar enterprise with more than 120 corporate and franchise locations, including both restaurants and smaller kiosks serving airports, food courts, hospitals and the penal system. Hawthorne remains president and CEO of the business and has chronicled the chain's remarkable growth in his book, "The Baker's Son: My Life in Business."
'Nothing stops us'
In May 2016, Hawthorne was featured in an episode of the CBS series, "Undercover Boss." Disguised as a trainee competing in a reality show to win funding to start a business, the CEO worked alongside Golden Krust chefs, counter staff and warehouse workers, getting a firsthand look at his employees' work ethic and listening to their honest assessments of where the company could improve. One of the chefs whose kitchen skills and ambition were evident in the show, Durrant Rowe, now is head chef at the Mattapan restaurant.
Hawthorne himself was in Mattapan for the grand opening, along with some 20 other family members involved in the corporation who drove up from New York despite the wet snowfall and slushy conditions.
"Nothing stops us," said Hawthorne, speaking with the Banner over the celebratory hubbub, which included music by the Platinum One reggae band and a live broadcast by WZBR The Bass of Boston radio station, in advance of a ribbon-cutting and speaking program that included Hawthorne, Mayor Marty Walsh and Denzil McKenzie, Honorary Consul of Jamaica at Boston.
The CEO noted that the Boston community has been exceptionally welcoming, keeping the Blue Hill store steadily busy from breakfast to dinner since it began serving on Jan. 20.
"The support is overwhelming," he said. "People are coming from all over — from Cambridge, downtown, all around the Boston area."