'Inclusive innovation' the topic of Rox HubWeek panel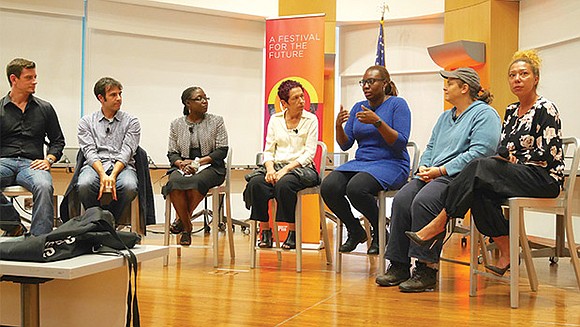 The Bolling Municipal Building in Dudley Square was transformed Monday evening into a marketplace for local entrepreneurs and a site for thoughtful discussions on creating an inclusive innovation ecosystem and supporting local entrepreneurs who have already taken the leap.
In the spacious lobby, youth-run businesses displayed wares from candles to bow ties, while on the second floor savory and sweet food offerings from local vendors tempted attendees in advance of panel discussions and a networking hour.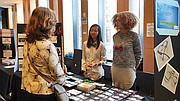 The Roxbury Innovation Showcase event was part of HUBWeek, the second annual weeklong festival of discussions and presentations in Boston and Cambridge exploring the nexus of innovation, art, society and technology.
An "Impact to Innovation" panel was moderated by Malia Lazu. Lazu, who has fostered entrepreneurship and civic participation in roles such as president of Epicenter Community and executive director of Future Boston Alliance, asked panelists to talk about the goal of inclusion in innovation — and how they are showing innovation in pursuit of that goal in Roxbury.
"Why do young people have to go to work for older people?" offered Cody Chamberlain of The Youth Innovation Project, a new program that helps startups build the capacity to create internships. "Why not have young people doing the startups and other young people working for their peers? There are so many youth creating fantastic business ideas."
Also addressing the youth realm was Ayele Shakur, regional executive director of BUILD, a nonprofit that offers a four-year entrepreneurship and college readiness program to disengaged high school students.
"When a 14- or 15-year-old can say 'I'm the CEO of a company I created' — that's when you redefine what's possible," Shakur said.
Jen Faigel, executive director of CommonWealth Kitchen, spoke of the work the food business incubator has done to help launch 45 companies so far and nurture another 45 currently operating in its Dorchester kitchen facilities. Nearly 80 percent of CommonWealth Kitchen businesses are owned by people of color and women, she said.
Before leading CommonWealth Kitchen, Faigel said, she spent 25 years in nonprofit affordable housing development. She grew to believe cultivating entrepreneurship is a better way to lift people out of poverty.
"Assets are wealth," she said. "All those people I helped with affordable housing — they're still poor. Our work [now] is about figuring out what can we do to help people build a real, true business."
Moderator Lazu told a West African fable about a giraffe and an elephant to illustrate the challenge of inclusion. In the tale, a giraffe invites an elephant to his home. He prepares to welcome his new friend with peanuts and other offerings — then faces the reality that the elephant cannot fit through the door.
"A lot of times, people in power are the giraffes; they are well-intentioned, but don't understand that what they have built is not for the elephants they've invited," she said.