Boston activists call for policies in Renters Day of Action demonstration
Tenants rally to demand gentrification protections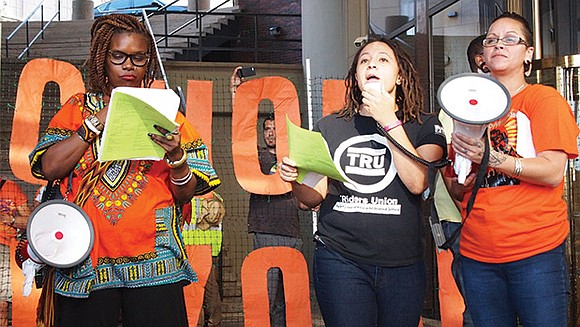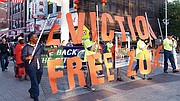 Tenant activists from across Boston came together last Thursday bearing banners highlighting issues in areas from the Fenway to Chinatown to Dorchester and emphasizing the same over-
arching message: that housing, tax and land use policies must change to ensure longtime residents are not displaced as rent increases outstrip wage growth.
Chanting in English, Spanish and Chinese, protesters gathered before the Greater Boston Real Estate Board downtown headquarters, criticizing what they called missing tenant protections and practices that favor profit over people. The advocates then marched to City Hall, where they outlined demands for policy change and — illustrating predictions of community destruction should change not come — conducted a die-in. The protest concluded with activists' speeches in Chinatown's Reggie Wong Park, one of the last in a handful of publicly-owned neighborhood parcels, whose future many residents fear will be beyond their control.
'Up with the wages, down with the rents'
Demonstrating as part of a national Renters Day of Action, the local activists called for access to housing to be recognized as a human right. They highlighted several policy goals, among them a halt to rent increases and a pay increase to living wage standard — the level deemed necessary to afford basic needs, which currently is higher than the minimum wage.
"Developers make all these luxury buildings, while the minimum wage is only $10," said Pei Ying Yu, a Chinatown resident, with English translation from Karen Chen, Chinese Progressive Association co-director. In Boston, a living wage is $26.12 for a family with two children and two adults working full-time year round, and $12.97 for a single, childless adult, according to research by Amy Glasmeier, MIT professor of economic geography and regional planning.
The city recently reported signs of rent stabilization in the Fenway as more units came online, with rents in older units declining by 0.4 percent as the neighborhood's housing stock grew by 6 percent since 2011. However, according to information distributed by protest organizers, rent increased by 7.4 percent in Roxbury this year. In Jamaica Plain, rents rose 10 percent in 2014, according to the Boston Redevelopment Authority's PLAN: JP/Rox final draft report.
An Egleston resident spoke similarly of the stark contrast between earnings and rent. The affordability level outlined for units created under the city's PLAN JP/Roxbury remains out of reach of many residents in a neighborhood where the average annual earning is $35,000, he said. According to that report, 15 percent of households in the area are at elevated risk of displacement, because they make less than $75,000 annually and live in market-rate rental housing.
Some Jamaica Plain and Roxbury residents have raised complaints that under the city's plan, 30 percent of units created would be affordable, while they want to see 70 percent.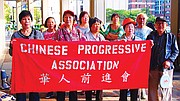 "That's not our affordability," the Egleston resident said.
Authors of the JP/Rox report state that limited funds for subsidizing affordable development means that any deepening of the levels of affordability comes at the cost of reducing the overall number of such apartments created.