Hacking the opportunity gap: Resilient Coders and true grit
Marcy Murninghan | 9/7/2016, 12:36 p.m.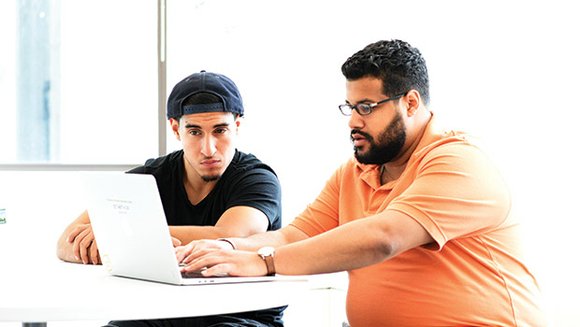 That's why an ecosystem now is emerging of coalitions and groups dedicated to increasing tech diversity on all these fronts. These efforts range from the White House's new multisector TechHire initiative, to industry- and company-specific programs, to local and regional groups.
Resilient Coders is part of what's called a "code literacy movement." Founded 18 months ago as a nonprofit organization, RC's mission is to prepare and place members of Boston's underserved communities in good jobs in the region's thriving tech industry. RC relies on a network of tech entrepreneurs, engineers and hiring partners to recruit, train and place young people. Last November, Boston Mayor Marty Walsh announced that the city's Operation Exit reentry program was expanding to partner with Resilient Coders.
The Bootcamp curriculum features project-based learning, with sessions on technology fundamentals, professional development and leadership development within a wider social context so participants might function as change agents. Bootcamp graduates receive certificates and badges demonstrating their mastery of software and specific work competencies.
In addition to the Bootcamp, RC runs periodic "hackathons" and, last spring, a semester-long program for high school students. Delmar told Banner Biz that RC continues to seek the most effective mix of program and process.
RC also operates Resilient Lab, billed as "a digital design and development agency with a social mission." Some Bootcamp graduates will move into the Resilient Lab lane to launch their careers through client work; others are hired directly by local firms. Each Bootcamp hacker has a GitHub account to showcase his or her work. "GitHub is like LinkedIn for coders," said Delmar.
Hacking the future
Several Bootcamp participants told Banner Biz that the experience is a welcome pivot from temp jobs in retail, office support, construction — and even time in the criminal justice system. For some, it's a way of building upon years of side interests in computers, engineering, art and design. For others, it's an upgrade to earlier HTML code training that now is outdated. For all, it's a process of demystifying computer science and making a leap into a new professional world where you need to keep learning — and, well, be resilient — to stay in the game.
"Finally, after ten, twelve years of lugging stuff up ladders, I'd like to get into tech and web development," said Bootcamper Matt Hoppe. "I'd like to do this professionally. I love doing it on the side, which I've been doing for years. But now I want to do it, you know … I want this to be my career."