Hacking the opportunity gap: Resilient Coders and true grit
Marcy Murninghan | 9/7/2016, 12:36 p.m.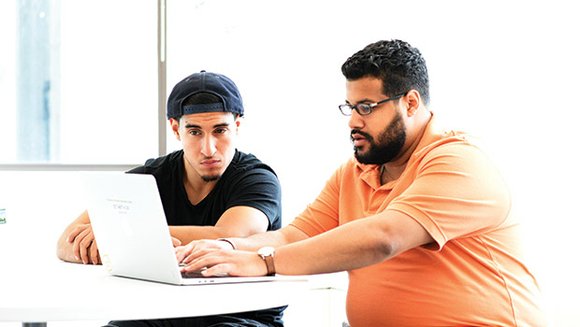 "It's a true meritocracy. If you know how to code, you get the job, right? If you know how to code, Bam! You're in my company."
That's what Leon Noel, tech pro and lead instructor for Resilient Coders Bootcamp, told the group of roughly a dozen young adults recently at the Roxbury Innovation Center in the Bolling Municipal Building. What he didn't have to say on this sweltering August morning was a fact well known to them: Meritocracy in coding exists in an industry dominated by white men.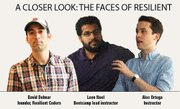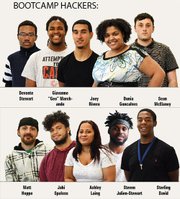 Resilient Coders is a Boston-based nonprofit that seeks to break that mold by adding gender, color and class to the mix. Through a variety of programs, RC builds not only coding competence, but personal confidence and character. In doing so, it helps opens up the talent pipeline to Boston's rapidly growing tech industry. "Hack the Opportunity Gap" is the RC motto.
The Bootcamp cohort — hand-picked by Resilient Coders partners and David Delmar, its energetic founder who left a job at PayPal to launch the idea — had just participated in a detailed two-hour session on CSS taught by Alec Ortega, a tech professional from HubSpot. CSS is one of several software languages taught during the seven and one-half week program that met daily through August 27. Seventeen millennials — mostly African American men, with two Latina women and two white men — received stipends and cash incentives to ready themselves for tech jobs. The training included shaping their life experience into tangible assets. One example: The CSS session was followed by a session on using LinkedIn as a platform for showcasing their interests and experience as well as marketing themselves as professionals and leaders.
Resilient Coders takes an expansive approach to investing in human capital because, in the tech workplace, character and culture — along with self-direction, discipline and presentation — count almost as much as coding competence.
"The only other thing I look at is, 'Do I wanna work with you over the next two years?'" Noel continued. "I have to make sure if I sit next to you nine hours a day, that there's some common ground, that you're a normal human being."
Breaking through homogeneity
Diversity and inclusion in the high-tech industry are sorely lacking. According to a report issued last May by the U.S. Equal Opportunity Employment Commission, minorities and women are underrepresented in the industry owing to a number of factors, including:
Pipeline problems such as inadequate education and exposure to tech careers, the "digital divide" between those with and without computers and internet access, and recruitment practices that fail to look beyond a limited group of places;
Promotion problems, often related to unconscious bias that produces disparate pay for women and minorities and benefits that do not support diverse workforce needs; and
Portability problems, which limit the mobility of skilled IT professionals to work with minority and women-owned companies. Despite the fact that there are half a million unfilled jobs across all sectors of the economy, many smaller businesses, particularly those in underrepresented communities, do not have the capacity to do business online.