Money key in Question 2 charter school expansion debate
Supporters, opponents dispute costs
Yawu Miller | 10/26/2016, 10:06 a.m.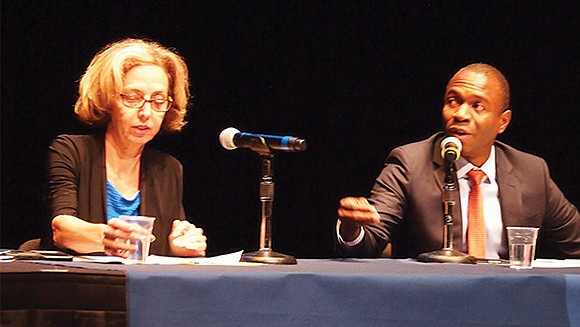 Across Massachusetts supporters of Ballot Question 2, which would lift the statewide cap on charter school expansion, are squaring off against measure opponents in school committee meetings, public forums and on the airwaves in what will likely be the most expensive ballot question in state history.
Supporters and opponents are expected to surpass $30 million in campaign spending. At stake is more than $15 billion in K-12 education spending across the state. During a Ford Hall Forum debate last week both sides of the ballot initiative drilled down on funding issues.
While supporters of Question 2 argue that the state funding — and the cost of educating an individual student — follows the student from district to charter schools, opponents say that the way the question was written — increasing the number of schools without any additional funding — will force existing charter and district schools and the new charters to compete for a finite pool of resources.
Great Schools Mass Coalition Director Shane Dunn argued that charter schools actually increase education funding because district schools receive partial funding for the students they lose to charter schools. City Councilor Tito Jackson maintained that the Legislature has consistently under-funded those reimbursements and that the loss of funding to charters leads to district school closures.
Assessments for charter schools and the cost of busing students to charters costs Boston $175 million a year, Jackson said. If three new schools open each year in Boston, Jackson said, it could force the closure of as many as 45 district schools.
Dunn ignited Jackson's ire when he argued that the state does not need to spend more funding on public education, at one point stating that Boston, with a $1.3 billion school budget, is spending more money on its schools than ever before, arguing that the city and state are "throwing money" at public education.
"We've been throwing billions of dollars at public education for decades and not getting results," Dunn said.
Jackson countered that the state has not maintained adequate funding for public schools, citing a report from a bipartisan group of lawmakers that found that the Legislature has underfunded the so-called foundation budget for k-12 education by $1 billion a year.
The ballot question, he argued, is a diversion from the larger issue of funding.
"This actually skirts the real issue," he said of Question 2. "We've been de-funding education in Massachusetts, not only for district schools, but also for charters. If we're going to solve the problem, we have to invest in public schools."
The Ford Hall Forum exchange mirrors debates that are playing out across Boston and the state on the editorial pages of newspapers and in city and town halls. Mayor Martin J. Walsh, a founding board member of the Neighborhood House Charter School, spelled out his opposition to the charter expansion Question 2 would facilitate, arguing that the current funding formula in which charters receive the average per-pupil funding in a district doesn't account for the fact that charter schools educate fewer high-need, high-cost students.