Dudley Square Main Streets then & now
Stanley reflects on 20 years aiding local businesses
As Dudley Square Main Streets Revitalization Corporation prepares to celebrate its 20th anniversary in a gala next week, Executive Director Joyce Stanley spoke with the Banner on two decades of promoting and supporting the Roxbury commercial district.
Stanley worked for the Model Cities program in the 1970s, then in Boston's Department of Public Facilities, before leading Dudley Square Main Streets. Among Boston Main Streets executive directors, she is the only one who has held her post from its inception.
"I'm the catalyst to get people to start talking, to help developers get money, to market the area, to work with the small businesses," she said about her role. As executive director, she is the sole staff member and oversees a volunteer board comprising business owners, residents, property owners, youth representatives and other advisers.
Over the years, the Main Streets tackled critical issues to help revitalize the area, with new phase bringing its own menu of concerns.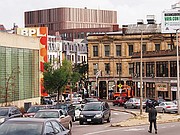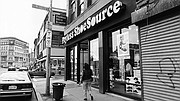 At the start
In 1992, two years before Dudley Square's Main Streets district was established, the area was suffering. Upper floors lay vacant in larger buildings and banks redlined the area, refusing to extend loans to redevelop or repair the sites. The elevated Orange Line had been dismantled, and buses picked up passengers on Warren and Washington Streets, eliminating parking spaces. The area around the Haley House was distressed: A homeless camp had taken root and prostitution and drug-use were rife, Stanley said.
At the time, a group of local merchants began working to bring back the old Merchants' Association and revitalize the commercial area.
Their efforts would lead to the creation of the nonprofit Dudley Square Main Streets, which brought together government officials with local residents and business owners to collaborate on area improvements.
In those days, utility companies did not take the district seriously and would not provide critical upgrades, Stanley said. Tropical Foods, which opened in Roxbury in the '70s, installed its own generator to prevent food loss when freezers shut off during rolling blackouts, she recalled. When Stanley and others presented detailed improvement requests to Boston Edison, a representative dismissed them.
"He said, 'You want a Cadillac system for a Buick neighborhood. We can't do that,'" Stanley recounted to the Banner.
Then there were the voices that doubted the ability of local landlords to develop, advising them to sell to franchises. Many —utility companies, developers and some City Hall employees included — treated development plans as a joke, until the coalition secured millions in a federal Economic Empowerment Zone grant, she said. They directed the funding toward three large rehabilitation projects, including the old Roxbury Boys Club and Paladio Hall.
The fight to get attention and assistance for Dudley also included a focus on the troubled block around Haley House.
"Elected officials said, if you can develop this block, you can develop Dudley," Stanley told the Banner. "That was our first target, to encourage people to do those buildings."
That effort ultimately would take ten years, but it drew support, including from officials such as U.S. Rep. Mike Capuano, who shared advice garnered from his experience as Somerville mayor working to revitalize Davis Square.