Land trusts versus the housing crisis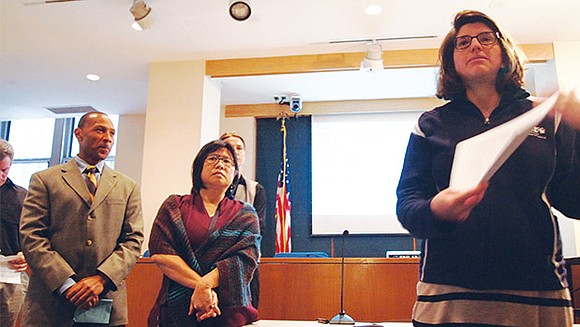 Land trusts without land
Creating and expanding a land trust can be difficult, with acquisition of land and financing posing the steepest barriers, along with administrative set-up. The Chinatown Community Land Trust, formed in 2015 to combat intense gentrification pressures in the neighborhood, thus far has been unable to obtain any property, despite conversations with owners.
City officials said at the meeting that state law prohibits them from just granting public parcels to land trusts, requiring instead that they go through a request for proposals process. The RPFs must be written so that there are multiple viable bidders — meaning that they cannot be explicitly geared to CLTs, if there is only one CLT in that community.
However, community leaders said there is a middle ground: They proposed that the city write RFPs not necessarily targeted at CLTs, but that seek candidates offering the longest-term affordability and highest levels of resident and community ownership and stewardship.
Another complication: The city often must select bidders with a proven history of financial acumen and capacity, officials said. This can put startup groups out of the running. Dudley Neighbors, Inc. — the oldest and most established land trust in Boston — has found one way around this dilemma. DNI collaborates on bids with established community development corporations that have that kind of history.
During the meeting, some community leaders also discussed whether tax incentives could incentivize private developers to sell land to CLTs. Some similarly suggested encouraging developers to fulfill inclusionary development obligations through constructing or funding affordable units on land owned by or slated to be given to CLTs.
The Coalition for Occupied Homes in Foreclosure plans to pilot the idea of using inclusionary development obligations to support its mission. The organization is partnering with the Boston Planning and Development Agency and developers to use developers' IDP funds to purchase and rehabilitate properties for affordable use, executive director Maureen Flynn said at the meeting.
Funding and support
Tufts University Field Project team members, in partnership with the Greater Boston Community Land Trust Network, published a report on CLTs in April 2016, in which they recommended that the city provide low- or no-interest loans to land trust to acquire, develop, preserve and rehabilitate housing as well as financial assistance with staffing and legal services.
Currently Dudley Streets Neighborhood Initiative, the community development corporation that created DNI, is taking up the mantle and offering consultation to community organizations interested in forming land trusts. This includes information on CLTs models, bylaws and networking with key city hall officials.
The Greater Boston Community Land Trust Network is another asset. It was created in March 2015 by DSNI and seven other groups for sharing best practices and coordinating policy advocacy. The network launched publicly in April 2016
Growing CLT scene
DNI was formed in Roxbury in 1988 by Dudley Street Neighborhood Initiative, when land was cheap. It has since grown to own more than 30 acres of land, which hold 226 units of affordable housing, as well as an urban farm, greenhouse, charter schools, parks and a town common.