Mobile Cuts on the move
Barber, marketing professional launch mobile venture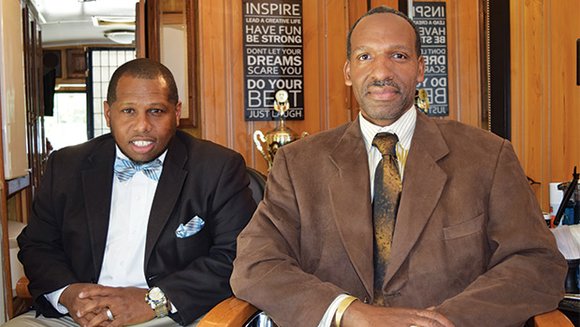 In today's on-the-go culture it is probably not a surprise to see a mobile barbershop when everything seems to be available on the fly, but in Boston you'll only find one.
For startup Mobile Cuts Boston, which officially hit the streets in January 2015, that is not a bad thing. However, for co-founders Christopher Roberts and Montrez Williams, it is also a challenge because there isn't an example of how to make their mobile barbershop business a success.
The closest they could come to finding a similar concept is in Los Angeles, but that is long way off and a country apart in terms of the business environment.
So Roberts and Williams are full speed ahead without a roadmap.
"What we are doing is groundbreaking and innovating," said Williams. "There is no other model that we can look at to say we can go from here … We are learning as we go."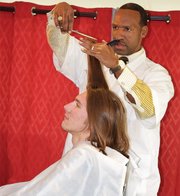 On the web
If you see Mobile Cuts' mobile barbershop — a converted RV — rolling down the street or parked on the corner it's hard not to think what a great idea company co-founders certainly had. Visit Mobile Cuts online at www.mobilecutsbos.com.
By design, Mobile Cuts sounds exactly like it is: a mobile barbershop that offers barbershop services that range from a buzz cut for $25 to an artistic shave for $45. The Elite package includes a cut, shampoo, scalp manipulation and shoe shine for $50. The Executive package offers a cut, shampoo, scalp and face massage, hot towel, straight-razor shave and shoe shine for $75.
The business model is capitalizing on the advantage of being on the move and going to where the customers are, but Roberts and Williams want customers to forget about that once they step on the Mobile Cuts truck.
"We want a barbershop feel and a lounge feel at the same time. We want it to be welcoming so when you walk in here it is an experience," said Williams. "I know we are not a typical barbershop because we are on wheels, but we want to make it feel comfortable and at home for people."
Mobile Cuts' barbershop expertise comes from Roberts, who is a master barber and has more than three decades of experience working around the city. Williams, who graduated from Emerson College, puts to work his degree in business administration and marketing to run that side of the company. Both Williams and Roberts are Boston-born and raised — Williams in Dorchester and Roberts in Roxbury.
The interior design of the mobile barbershop certainly leaves the street corner quickly behind with comfortable leather barber chairs, wooded counters and trimmings and a lounge waiting area in the back.
Roberts calls it an intimate setting.
"We try to keep it real soothing and relaxing. It is a nice environment. The client has a personal relationship with me so once they are here it is just us, one-on-one," Roberts said. "To be in Mobile Cuts it is a beautiful experience all around."
Steady clients