A Healthy Love of Chocolate
Chocolate Therapy founders' experience combines for a recipe for success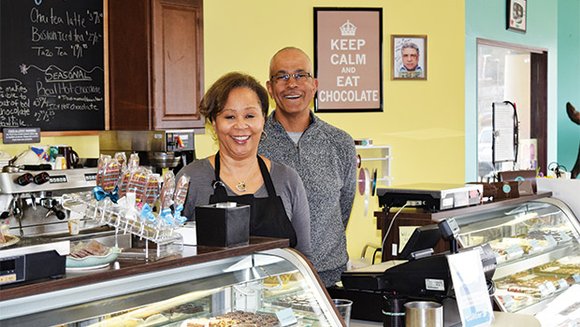 When you talk to Pamela and David Griffin about Chocolate Therapy, the savvy entrepreneurs give a great pitch about how the chocolate-making business is the perfect use of their backgrounds and experience in retail and manufacturing.

But the couple can't hide their enthusiasm for chocolate.
The two have found their own recipe for success, focusing on small-batch, handmade chocolate products and pushing the health benefits of dark chocolate and their way of crafting it. Operating out of a retail and manufacturing facility in Framingham, Chocolate Therapy's tagline is "Sweet Remedies," reflecting the therapeutic ingredients they use, including bee pollen, coconut oil, ginseng, lavender and green tea, along with more typical items such as caramel, nuts and peanut butter.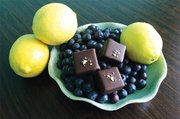 The Griffins' philosophy is to get creative in combining ingredients for delicious but also health-conscious products — and to invite the customer along for the ride.
"People enjoy the fact that they can look and see what the benefits are of those ingredients," says Pamela Griffin, who held managerial and executive positions for 17 years at Starbucks. "That is our niche. You will come in here and get not just a bonbon or a milk chocolate or white chocolate truffle, you will get some other ingredient with a therapeutic value that is infused into the chocolate."
She adds, "It is not going to cure you, but it is going to make you happy, and it is very different than walking into just a local chocolate retailer."
A quick glance at the shop's tempting array reveals not only Milk Chocolate Truffles and Sea Salt Caramels, but also Sweet Potato Pie Truffle, Strawberry Balsamic Chocolates and a Blueberry Lemon Basil Truffle.
"We push the envelope as far as we can," Pamela says.
Business wisdom
The Griffins are not relying solely on customers walking in and buying chocolates over the counter; they have diversified Chocolate Therapy with many different ways to bring in revenue.
Business is something the couple, married for 30 years, knows well. While Pamela's experience at Starbucks exposed her to the retail world during the height of the coffee chain's explosion onto the scene, David spent much of his professional career in manufacturing, seeing firsthand the back-end infrastructure needed for production and the ways to get inventory out the door to as many different consumer outlets as possible.
From the 1980s to the early 90s, the Griffins owned several small coffee shops in Chicago, where they are both from, giving them exposure to storefront retail.
Their Chocolate Therapy store in Framingham is host to birthday parties, public and private wine and chocolate events, chocolate-making classes, team-building programs and even events for Girl Scouts, through which the scouts can earn a chocolatier badge. Chocolate Therapy offers some of these events offsite as well.
In addition, Chocolate Therapy operates a wholesale and corporate business making chocolates for guest rooms in Boston hotels, including Boston Intercontinental, Seaport Boston Hotel and Lenox Hotel. The company also makes chocolates for other retail brands, including Winston Flowers, Taza Chocolate, Beakman 1802 and HomeGoods.