'We must live…'
Maly Drama Theatre presents Chekhov's 'Three Sisters'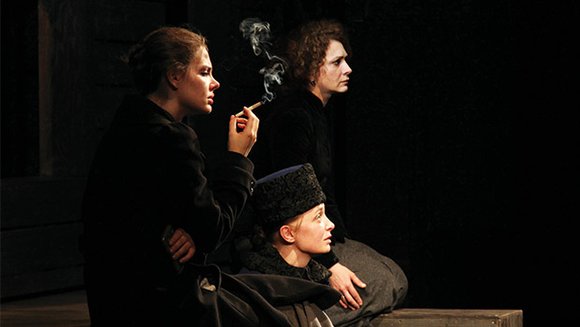 The grave and beautiful production of Anton Chekhov's play "The Three Sisters," by the Maly Drama Theatre of St. Petersburg, Russia, suited the Cutler Majestic Theatre in Boston, where ArtsEmerson hosted the company's five performances last week.
Anton Chekhov (1860-1904) wrote the play in 1900, just three years before the opening of the ornate rococo theater. Handsomely restored by Emerson College, the theater is the creation of a different area, like the way of life portrayed in the play.
Chekhov lived during turbulent times in Russia. Stratified by extremes of wealth and poverty, his country was poised for massive change.

The three sisters, Masha, Irina, and Olga, inhabit a world that is passing away. Unlike their feckless brother and his mercenary wife, the sisters cling to their ideals as well as their longing to leave their provincial town and return to their childhood home in Moscow. Years before, their widowed father, an army general, moved them to the provinces, where he headed an army brigade. Now that he has died, the sisters plan to sell the family house and move to Moscow. But fate intervenes and their dreams elude them.
Even the brigade that has been their bulwark against loneliness will soon be dispatched to another part of Russia.
Performed in Russian with English subtitles, the three-hour production of Chekhov's tragicomedy was directed by Lev Dodin, artistic director of the Maly Drama Theatre. In the program, Dodin notes Chekhov's attention to the "tragic discrepancies between our yearnings and reality." He points out that Chekhov writes in "the universal language of loss" and renders "the stern tone in which life speaks to us."
In Dodin's staging, just as in Chekhov's script, even the smallest details are telling.

Alexander Borovsky designed the period costumes and spare set. A wall with windows forms a stage-filling silhouette of a manor house that from a distance looks strong and intact. But when it moves to the front of the stage in the closing minutes of the play, its surface looks frayed and peeling — as vulnerable as the lives of its original owners.
The sisters wear the dresses specified by Chekhov in his script: Irina, the youngest sister, age 20 as the play begins, wears a white dress; Masha is outfitted in a black dress; and Olga, the oldest sister, wears the blue official garb of a teacher. Most of the men are attired as military officers.
Lighting by Damir Ismagilov and dance coaching by Yuri Vasilkov are indispensible to this staging of Chekhov's play, which has little action but plenty of talk. The superb cast moves about a lot both on stage and in the aisles and performs a great deal of physical acting. The actors embody the quirks and flaws of their characters while performing in a sublime ensemble that renders importance to each part — even a momentary comic touch.
On stage for just a minute or two, the loutish doorman Ferapont (Alexander Koshkarev) disrupts a family portrait, chomping food as he stomps through the middle of the posed group