Boston considers more diversified, connected transit future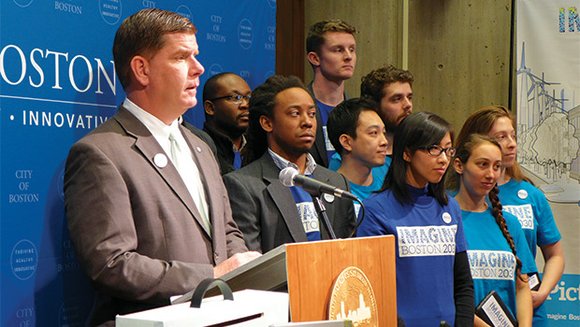 Low-car mentality
According to its "Guiding Growth" report, Imagine Boston 2030 is exploring strategies to "improve bike, pedestrian, bus and train mobility, better connect Boston's neighborhoods and encourage Bostonians to take more trips on public transit."
One way the city can work toward transit goals is by assuming in its development plans that people will be using diverse transportation methods — not just cars, Alice Brown, project manager for Go Boston 2030, said.
In part, this can mean building sufficient sidewalk space and timing crosswalk lights to allow frequent pedestrian movement. The city also can create protected bikeways and build off-road cycle paths.
Designing projects that presume people will get there by car often has the effect of making it so, Reardon said.
"If we're building a new development predicated on people driving to it, then we'll have more traffic," he said.
Reardon pointed to a proposed construction at Tremont Crossing that would have an 800-car parking lot: "That's the kind of land use that will generate a lot of traffic in the area. It'd be possible to put other land use there and create far less parking because it is one of most accessible areas in the city."
In locations where public transit options are available nearby, developers could encourage people to use it by buliding less parking, he said.
"[Planning for 2030] is not just about how many people and how many households, but how we're building for that," he said.
Public transit
Although the city does not control the MBTA — and thus trains, buses and drivers — it does control the streets the buses go down, and can allot space on the roads and time traffic lights to improve their service. To promote public transit, the city can designate separate bus lanes or queuing boxes at intersections to allow buses to get ahead of the line, Reardon said. Other options include traffic signals that prioritize buses.

Speaking at an event last week announcing Imagine Boston's goals, Mayor Martin Walsh said restoring late night services to the MBTA "will be vital to 2030," and said now is a time to consider how to strengthen and increase ridership on the T.
Go Boston 2030 currently works closely with the MBTA, Brown said, and several MBTA members are on its team.
Interconnected neighborhoods
The Guiding Growth report also cited a need for better connecting neighborhoods. In many cases, Mares said, someone taking public transit has to go downtown and then back out in order to get to an adjacent neighborhood, and many low-income areas and communities of color lack sufficient transportation.
While the city has yet to make any concrete plans, Brown said, some ideas for better linking neighborhoods have been suggested or could be drawn from other cities.
Brown said she had heard a suggestion for introducing shuttles that would link areas of Roxbury and Jamaica Plain — for instance between destinations such as a grocery store and a library. Another idea: Features could be introduced to improve the experience of walking between neighborhoods. For instance, Brown said, PLAN Dot Ave tackles the stretch of Dorchester Avenue Corridor between Andrew and Broadway. While the path is only a mile long, it can feel like two or three to someone walking, because the area is industrial and not a welcoming atmosphere, she said. Inclusion of stores, benches, parks and other amenities along the way could change that tone she said. There are plans in place to change zoning so that it is easier to diversity land use and make it more engaging.
State Rep. Russell Holmes, co-chair of the Go Boston 2030 advisory committee, said his planning focus is on targeting existing "transit deserts" and resolving inequalities for the people who currently live in the city, before those predicted to move into the city over the next 14 years.
Go Boston 2030 is expected to release its recommendations this August, Holmes said. Imagine Boston 2030 is scheduled to begin drafting strategies in May.