Outfitting champions
Mattapan startup designs athletic wear for local teams
Peter Edouard is an entrepreneur, but he also is an artist at heart and with his Mattapan-based startup Mathmatik Athletics, he is putting his creativity to work in designing and manufacturing uniforms and warm ups for sports teams. While it remains early going, he already seems to have slam dunked it with local high school basketball teams.
The 28-year-old Edouard has designed new uniforms for the basketball team at his alma mater Charlestown High School; the b-ball players at Jeremiah E. Burke High School and Brighton High School already wear Mathmatik gear on the court; and outside the city, the Nauset Regional High School Warriors are decked out in the company's apparel from the bus to tipoff and even carry their gear in branded, custom-designed bags.
While big companies such as Nike dominate the sports apparel world, Edouard has a vision that creates a branding experience for the teams he works with — it is the kind of things the big boys might do with pro teams or famous athletes, but certainly not with your average high schools.
Mathmatik pumped up the delivery of the new uniforms to its local teams with a kickoff event, a photoshoot and the option of setting up customized online stores to sell school-brand gear.
Edouard said he relishes helping promote athletics in the Boston Public Schools, in particular, remembering how important athletics were during his time at Charlestown High School from 2001-2005.
"When I was in high school it meant something if you played for Charlestown and you played for English. I kind of want to bring that back," he said. "With new uniforms and a photoshoot you can help create a brand and create excitement."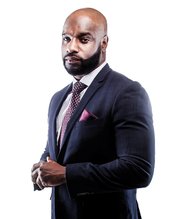 Home team advantage
The approach seems to be working so far for Mathmatik.
"The teams we have now, they love the uniforms, they love the photoshoot, they love everything that comes with the Mathmatik package," Edouard said.
Brighton was the first team to wear Mathmatik uniforms back in 2014. At this point, most of the company's business has come through word of mouth, publicly generated by the teams that wear the company's gear.
"At the start, all the teams that Brighton was playing were asking about the uniforms. It really helped us get more clients," said Edouard.
Edouard's ambition does not end with BPS teams. He has plans to continue to grow the business.
Mathmatik will get a big boost in this process over the next several months as Edouard takes part in the well-known MassChallenge startup accelerator program. He hopes MassChallenge will give him the knowledge and strategy to expand his business. But it also may provide some financial backing to do so as program participants get to pitch their business ideas with the chance to win cash investment.
Future plans
Currently, Edouard designs all of Mathmatik's apparel and uses a manufacturing company overseas to produce the clothing. His plan, though, is to set up a factory in Boston to do this work.