State calls out 5 Boston schools for disparate & excessive suspensions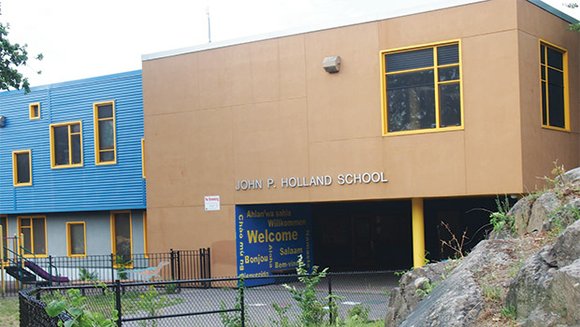 In her work she has seen children suspended for incidents such as pretending to fence with pencils or for saying they did not want to do something a teacher asked. Her clients range from ages four to nineteen. Most of them have been suspended four to eight times.
The vast majority of suspensions she sees are for non-violent, non-drug related, non-criminal offenses: "Everything we would think of as talking back, essentially," she told the Banner.
At what cost?
Even when the offense does warrant discipline, it is unlikely that being sent home will reshape behavior, McIntyre said.
"Cursing at a teacher is not behavior we want to see in a classroom, but sending a student home is not going to change that behavior. If you send a student home they're going to sit on the couch and play Minecraft all day and come back and act in the exact same way."
Another thing it can do is drive them to drop out.
"I've had a fifth grader say he didn't want to go to school anymore because they were just going to send him home," McIntyre said.
Tito Jackson, chair of the city council's Committee on Education, said that having to pick a child up from school can place an untenable burden on parents. Frequent suspensions can force the parent to withdraw their child.
"Many of our students come from single parent households, and multiple suspensions can mean a single parent could possibly put their job in jeopardy and often times will move their child from an institution that has these draconian zero-tolerance policies," he told the Banner.
Not only do children miss valuable class time — without necessarily learning the behavioral lesson the punishment was meant to teach — but their relationship to school and sense of whether they truly have a place in it are affected.
"Kids start to label themselves as 'problems,' as kids where school is not going to be a thing that they're good at," McIntyre said. "Even with really young kids, if they don't understand — a kindergartener or first grader does not understand the concept of suspension — it's hard for them to be removed from their friends and their community."
In its release, DESE noted that students who receive suspensions are more likely to drop out.
Change in the wind?
DESE's announcement indicates new focus on the issue, and some schools say they are making changes already.
According to a statement provided to the Banner, BPS is prioritizing the reduction of suspension rates. Jean-Dominique Anoh, the headmaster of Mary Lyon Pilot High School, has started the process. Initial work includes doubling the number of school therapists and placing them at entrances in the morning to identify and de-escalate tension between students, creating a team of teachers who work to develop individualized intervention strategies and sending staff for training at Suffolk University's Center for Restorative Justice.
The efforts may be yielding fruit: During school year 2014-2015, Lyon's out-of-school suspension rate was 17.5 percent, and suspension rate for black students was 41 percent. This includes all suspensions, not just those given for non-drug, non-violent or non-criminal related offenses. As of June 9, 2016, those rates had dropped to 10.7 percent overall and 25 percent for black students for school year 2015-2016.