Serving Colombian flavor
Entrepreneur finds success with Hyde Park clientele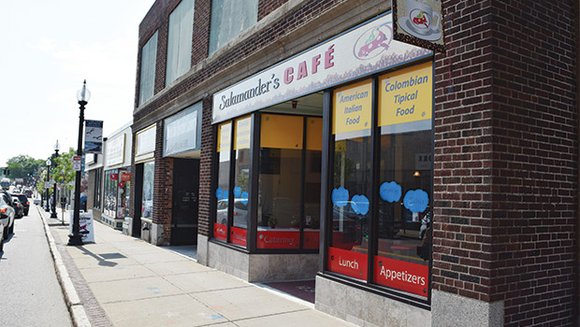 Hyde Park business bigwigs wanted a breakfast café in the neighborhood and Maria "Mercedes" Pica was more than happy to oblige with her Salamander's Café, which opened in late January of this year on River St. But four months into her business she is already looking to build on the strong breakfast rush by expanding to offer Colombian food as well.
Pica, a native of Bogotá, Colombia, said expanding the menu is just a matter of meeting demand. While the need for a breakfast café in Hyde Park has proven true and Salamander's is packed every morning serving up coffee and breakfast sandwiches, Pica has fielded a constant stream of questions about serving Colombian food. Once people find out where she is from it always come up. The repeated exchange made her take a look at the ethnic diversity of Hyde Park and she noticed the prominence of a Latino community, as well as a big Colombian community in nearby Roslindale.
She also asked some of the area's Colombian residents about where they go to get authentic food from their native land and turns out they all travel to East Boston as the closest option. Any savvy entrepreneur would see that as an opportunity — Pica certainly did.
"I just saw the market needs that too. Colombian food is the best that I can do — it is my food. That is why I decided to do it," Pica said.
Currently, Salamander's is only open for breakfast and lunch through the late afternoon, but Pica hopes the expansion into Colombian food will lead to serving dinner as well.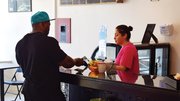 Testing the waters
For the past month, Salamander's has experimented with Colombian food specials on the weekends to test the waters. The response has been great.
"I think that it is going to work really good," said Pica. Long-term she envisions the Colombian connection providing her an opportunity to tie in with the culture with night events including music or similar themed Sunday brunches.
Salamander's new menu with the Colombian additions launched this week.
The breakfast crowd can still get the standard breakfast fare, but Colombian flavor encroaches with dishes that include corn tortillas, plantains and cheese bread.
The lunch menu adds the type of dishes that will eventually spill over into dinner service down the road.
A highlight is Bandeja Paisa, a take on one of the most popular Colombian dishes that features grilled steak, pork strips, a fried egg, beans, rice, sweet plantains and corn tortilla.
In addition one of Pica's goals in adding Colombian fare to the menu was to encompass food styles from all the different regions in the country. As such the menu has Changua Bogotana, from Bogotá, Tamal Tolimense from Tolima and Pandebono Valluno con Huevos from Cali.
Standard lunch fare such as sandwiches, wraps and salads are also available.
Career pivot
From the start, Salamander's has offered a catering business, especially targeting local businesses. The hope is that the Colombian menu will also grow the catering business for cultural events.