The promise of medical tech
State, local officials seek opportunities for local businesses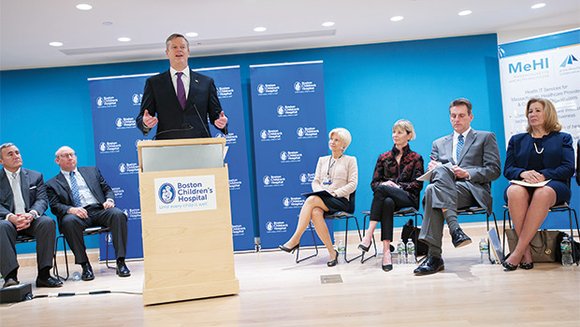 Gov. Charlie Baker and Boston Mayor Marty Walsh have each worked to pump up the small business climate in Boston and Massachusetts, in an effort to add jobs to strengthen the local economy. Last week, the pair came together to detail plans to boost the state's burgeoning digital health-care sector in a move that could have a large ripple effect on the local startup community and small businesses connected to health.
The plan is a statewide effort of public officials and private sector companies working together to support startups chasing the extremely promising digital health sector. Massachusetts may have long been at the forefront of the life-sciences and biotechnology sectors, but the growth of digital health, or eHealth industry, is still on the rise and local officials are keen to get out in front of it.
The sector combines health-care and information technology and spans a wide range of technologies, including electronic health records, consumer wearable devices, payment management, Big Data analytics and telemedicine.
A report by Goldman Sachs tabbed the digital health sector as reaching $32 billion in the next decade. Baker and Walsh are banking on the fact that Massachusetts already houses some 250 digital health companies, has a vastly successful life sciences sector and is home to some of the world's best healthcare and academic institutions to put the state on the digital health sector fast track.
"Our administration is committed to making Massachusetts a national leader in digital health by partnering with private industry, convening key stakeholders and addressing market gaps," Baker said at a press event on Jan. 7 at Boston Children's Hospital. "This emerging industry cluster has the potential to become a powerful driver of job creation across the Commonwealth, while also unlocking new advances in improving patient care and lowering health care costs."
Baker spoke along with Walsh, as well as others including Massachusetts House Speaker Robert DeLeo, state Housing and Economic Development Secretary Jay Ash and Massachusetts Executive Office of Health and Human Services Secretary Marylou Sudders.
"Strong public-private partnerships are what make our city, and our region, more competitive in the global economy," Walsh said. "We know that the digital health-care industry is Boston's future, and I thank our state and private sector partners for their support. By working together, we can maintain Boston's leadership in health care and the life sciences, and create an environment where the digital healthcare industry can thrive and we can better serve our patients and their families."
The first concrete move that might interest small business entrepreneurs is the establishment of a digital health innovation hub in Boston. To be set up at a city site yet to be named, the hub will provide space, programming and an industry network for digital health startups. The move mirrors similar efforts made to establish now-successful hubs for other tech startups at several locations throughout the city.
The Massachusetts eHealth Institute at the Massachusetts Technology Collaborative and the Massachusetts Competitive Partnership will oversee the creation of the digital health innovation hub, with local startup-support organization MassChallenge managing and operating the programming.