A patriotic resolution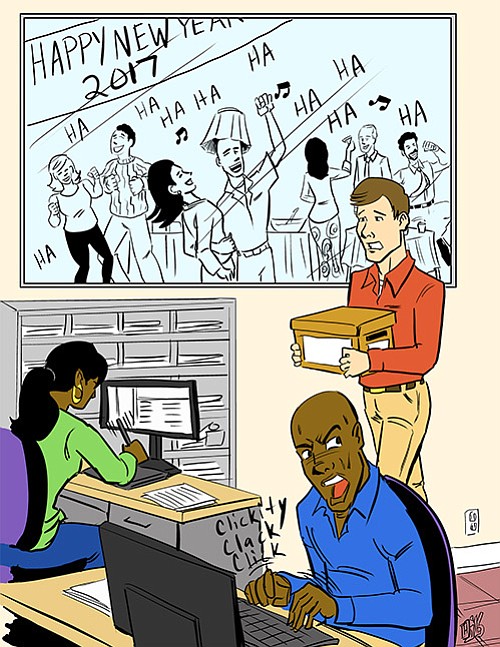 It is customary at the end of December to develop a New Year's resolution, a regimen to remedy bad habits. In the past, before the year ends, many disciplined resolvers find that even the memory of their resolutions has grown dim. But this year the approach to resolutions will have to expand beyond personal shortcomings and become a commitment to save the nation.
When a new president occupies the White House, members of the losing party are disappointed, but they move forward with the assurance that everyone, regardless of party affiliation, adheres to the same culture of democracy. Now the country has a president whose values differ from the nation's highest principles. Those who disagree with Donald Trump's deviation will have to develop an organized and effective opposition.
The enormous political achievement of the past eight years was the election of Barack Obama as president. His re-election four years ago seemed to provide assurance that the nation was committed in its move away from the immoral legacy of slavery. However, the magnitude of white supremacy attitudes was greatly underestimated.
Many achieving whites who earned their success did not fully understand the advantage of white privilege. Their less-accomplished brethren simply had to show up and they would enjoy opportunities summarily denied to blacks and Latinos. Two factors have caused great anxiety of marginally qualified whites: the growth of the black, Latino and Asian populations and the development of new industrial technology.
This group, disaffected with the nation's drift toward racial tolerance, was in search of a leader. Sensing the opportunity, Trump stepped forward to lead the birther movement. He knew how to play the media, so he was able to divert his celebrity to support lowly goals. The media are always ready to publicize the negative. That is what generates an audience.
No one knew then that Trump planned to run for president. Even Trump was undoubtedly uncertain. It was clear that Trump was sufficiently hostile to Barack Obama that he would lead a racially inspired attack on his legitimacy to be president. Is it any wonder that such a person as Trump would become guardian saint of those who support white supremacy?
Now the rest of Americans are in a battle to preserve their democratic traditions. This is a more difficult challenge because white supremacists seem willing to tolerate any deviancy in order to keep their dying point of view alive. That is a reality that the Democratic Party did not understand. The well-educated and well-fed white suburbanites had little sensitivity to the struggles of the so-called "white trash."
Trump understood it. Now he plans to transgress any democratic traditions as is necessary to secure his power and build his family's wealth as long as he does not violate the law. Now America will begin to understand the warning of Gen. Dwight Eisenhower who was president from 1953-1961. He urged the nation to beware "the military-industrial complex." Citizens will also see the demise of any rules that prevent presidential profiteering.
In the past, Americans have been casual about their involvement in political matters unless an election is underway. This year, during the coming period of dynamic change, your New Year's resolution must be to remain politically active in order to preserve the democratic culture.