Fashion retailer finds success with new Roxbury location
Karen Morales | 12/28/2016, 11:12 a.m.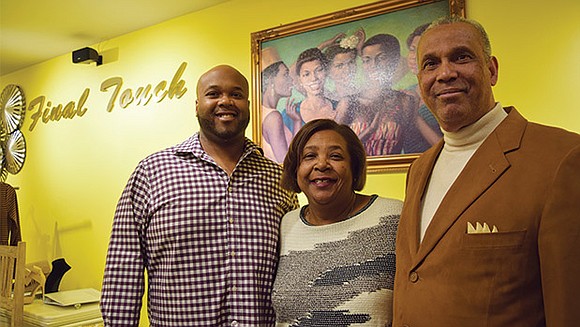 In today's fashion era marked by jeans and sneakers, a boutique in Dudley Square pays homage to a time when women always were dressed to the nines, no matter the occasion.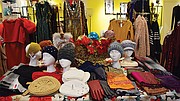 Final Touch with Class is a family-run store in Roxbury's Bruce C. Bolling Municipal Building that sells inimitable women's accessories and clothing in an intimate environment.
"I don't want to just sell you something," said Catherine Hardaway, who owns the store with husband Danny and son Haris. "I want you to walk out of here feeling fabulous."
The Hardaways opened their first Final Touch location in 2005 on Morton Street in Mattapan. Danny had retired from working in corporate settings as a marketing sales specialist and was looking for the next venture. Catherine, who also is executive director of Central Boston Elder Services in Dudley Square, always was interested in locally-owned businesses that serve the community.
Originally from South Carolina, Catherine moved north to live with her aunt on Blue Hill Avenue in the 1960s. "There used to be all these stores on Blue Hill Avenue. Everything from meat markets, furniture stores," she said. "You never had to go downtown. You could shop for everything in your community."
Putting shoppers at ease
The Hardaways started the business as an accessories store but quickly expanded to clothing as it took off. Mall managers began to take notice. "They liked that our store was different from other chain stores," said Catherine.
They moved their retail location to Westgate Mall in Brockton, then to Emerald Square in Attleboro. "We built our reputation in the South Shore," said Danny. "A lot of people know us from there."
The family moved their boutique to the Bolling Building in November 2015. Across from the Dudley Square bus station, the store occupies a prime location with thousands of people going through the terminal every day. "If someone is waiting for the bus, our store might catch their eye and they come in just to look," said Catherine. "But they end up coming back."
Customers regularly return for the wide range of dresses, handbags, shoes and jewelry priced between $40 and $200, as well as for the Hardaways' attention to detail and curated customer experience.
"We're very one-on-one," said Danny. "You can come in and say, 'Danny, what you got?' and I'll direct you to the right style."
"We're all about service. It comes from our Southern roots," said Haris, who once helped a customer for three hours to pick the right outfit.
"We teach women about fit, how to wear color and be adventurous," he said. "We bring punctuation to personality."
Women from 18 to 70 shop at Final Touch. With sizes ranging from petite to plus, the store tries to suit everyone, said Catherine. Many of the items tiptoe the fine line between trendy but classic, and sexy but classy.
The store is designed to put customers at ease, like shopping a friend's closet. Catherine said they picked out the bright color of the walls, easy visibility of the clothes and seating areas with this in mind. "I'm a therapy shopper myself, so when I walk into a store, I want to feel good," she said.