Whittier Street, Roxbury get $30m revitalization grant
Grant to revitalize the area may be among last HUD aid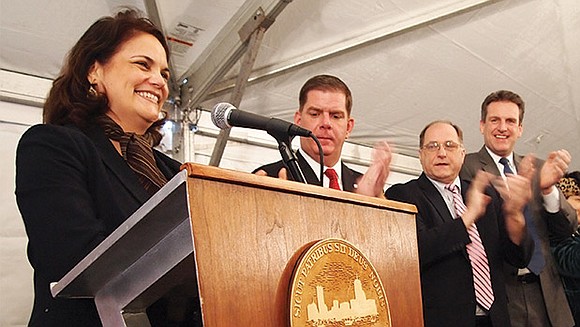 The Boston nonprofit Economic Mobility Pathways will receive $3.1 million over five years to provide support services to all households currently living at Whittier to assist residents with relocation transitions and in attaining greater economic mobility.
Under the Whittier Choice Neighborhoods Initiative, residents will be further connected to programs to improve health, education and economic standing. This includes expanding Building Pathways, a training program that brings low-income people of color and women into construction trades, to students at the nearby Madison Park Technical Vocational High School; supporting health and wellness programming at Whittier Street Health Center; and providing further job training programs.
Other dollars will bring significant expansion to the city's income-eligible first-time homebuyer assistance programs, Pinado said.
Walsh praised the investment as one that will keep low-income residents from being pushed out of the neighborhood, facilitate wealth-building in the community and be another step toward drawing attention to Roxbury as a business destination.
"Roxbury deserves $30 million," Walsh said. "We need to continue to push for good development for Roxbury. …. We need to continue to make sure that your kids who grow up in this neighborhood can live in this neighborhood and want to live in this neighborhood."
The Whittier community is among five grant winners nationally, out of a pool of 34 applicants, Coloretti said. This victory follows upon a failed 2014 bid for the grant, and is the second such grant award in Boston history.