Hope, love & faith
Renaissance Della Robbia sculptures on view at MFA through Dec. 4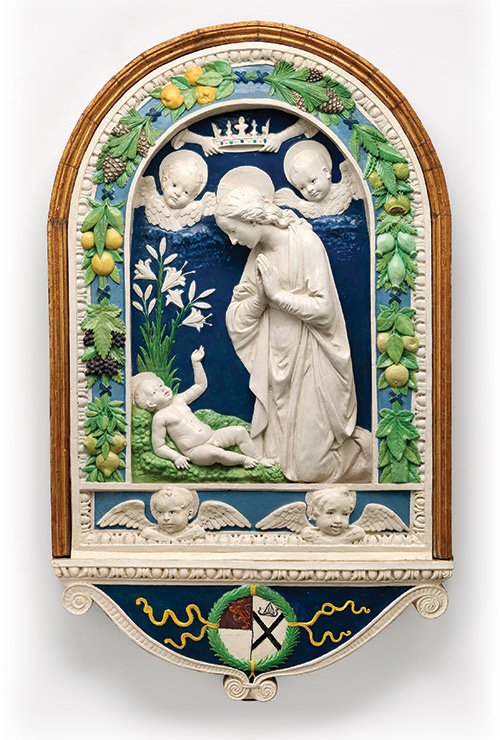 Some sculptures leave a viewer cold. Not the works of Florentine sculptor Luca della Robbia (1399-1482) and his family. Their sculptures inspire joy and intimate encounters with their subjects. Their colorful garlands of fruit shine with Mediterranean warmth, and the figures are so natural that they seem alive.

Such moving and beguiling works fill an entire gallery at the Museum of Fine Arts, Boston (MFA), where the exhibition "Della Robbia: Sculpting with Color in Renaissance Florence" is on view through December 4 and then travels to the National Gallery of Art in Washington, DC from February 5–June 4, 2017. Marietta Cambareri, MFA senior curator of European sculpture, organized the exhibition and wrote most of its fine catalog. The first major U.S. offering dedicated to the story of the Della Robbia sculptures, the show presents 46 works, including six major loans from Italy never before shown here.

For about a century, from 1450 through 1550, three generations of the Della Robbia family and a few rivals who purloined their secret recipe produced glazed terracotta sculptures that became the art of choice for civic buildings, churches and homes in Renaissance Florence.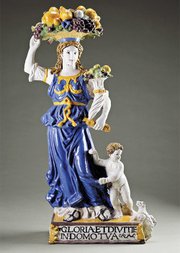 Enduring color
In 1440, Luca della Robbia, already distinguished as a sculptor in marble, invented a glaze that yielded bright, shiny and enduring colors, including deep azure blues and opaque whites. His innovation revived the use of clay, a material true to the city's Etruscan heritage. But while the painted surfaces of ancient sculptures faded over time, his colors remained bright — "almost eternal," in the words of his contemporary, the art historian Giorgio Vasari. Drawing raw calcium-rich clay from the Arno River that ran alongside his workshop, Luca then refined it to match his proprietary glaze, boosted by lead and tin to heighten color and shine.
Luca della Robbia shared his secrets with his nephew and principal collaborator, Andrea della Robbia (1435–1525), who in turn passed them on to five of his sons, who joined the family workshop.

Rather than a chronological presentation, the exhibition is organized to show overlapping themes of hope, love and faith — values of Renaissance Florence.
A Luca della Robbia masterpiece, "The Visitation" (about 1445), from a church in Pistoia, Tuscany, renders a poignant scene from the Gospel of Luke. Mary, pregnant with Jesus, arrives to care for her aged cousin Elizabeth, who is pregnant with John the Baptist. The white-glazed terracotta work unites the two figures, one aged and one young, into a single sculpture of profound power.
In his "Virgin and Child with Lilies" (1460-70), from the MFA's collection, the plump-cheeked baby Jesus reaches for the flowers. His mother's hands are strong as she holds him, her face a subtle study in alert, protective tenderness.

A trio of portraits showing a boy, a youth and an elder demonstrates the mastery of Andrea della Robbia. In "Bust of a Boy" (about 1475), from the Museo Nazionale del Bargello in Florence, the child's lips pucker as if he is taking a breath. His "Roundel with Head of a Youth" (1470-80), a portrait framed by a garland of fruits, lets shadows sculpt the youth's cheeks, lips and chin. "Roundel with the Bust of a Saint" renders a character of warmth and sober wisdom rather than a figure of saccharine piety.