Rev. Barber, in Boston, urges a moral lens on policy issues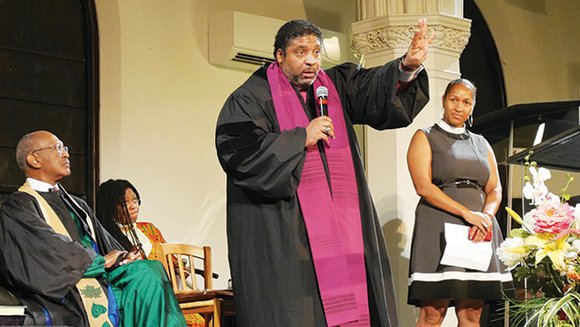 North Carolina minister and political leader Rev. Dr. William Barber II electrified an overflow crowd in Boston last week as he hammered out an agenda for a "moral revolution of values" in times of pain, injustice and outrage.
Barber has gained prominence among faith and advocacy communities for organizing "Moral Mondays," weekly civil rights protest events at which thousands of clergy and activists converge on the North Carolina State House to take a stand — and in many cases, to be arrested — in the face of legislative decisions on issues such as voting rights, taxation, criminal justice and cuts to social programs.
President of North Carolina's state NAACP chapter since 2006 and co-leader of a U.S. "Revival Tour" over the past several months, Barber's national profile rose sharply just days before his Boston appearance when he delivered a fiery ten-minute speech on the final night of the Democratic National Convention in Philadelphia.
Social gospel
At Bethel AME Church in Boston, Barber conducted a full revival that stretched well over three hours before a crowd of 600 in the sanctuary of the Jamaica Plain venue. Scores more in a nearby overflow room watched, as well as a live-stream at the Unitarian Universalist Urban Ministry at First Church in Roxbury.
The program of music, preaching and testimony was intended to instill righteous anger and inspire attendees to go forth and mobilize converts to a new form of moral activism that crosses traditional party lines, focusing not on right vs. left, but on right vs. wrong.
Barber pulled a rapt audience along with him in a forceful hour-long sermon.
"The revival is to build a following — we have to have change from the bottom up," he began.
He outlined the ills of today's political world, starting with the misrepresentation of religion by the evangelical right — paraphrasing the book of Ezekiel, he decried "the conspiracy among the false preachers and the mean politicians" — and the obscene sums of money being spent to undermine justice.
"We have a heart problem," Barber said, urging all to rise to be "moral defibrillators" of our time.
"There's something wrong with the heart," he repeated, his voice rising in a steady crescendo. "There's something wrong when it's easier to get a gun than a voting card."
Part of the evening was given over to emotional testimony from Boston area residents who described their personal experiences facing injustice: low-paying restaurant work that forces a family of five to live in a homeless shelter, a lifetime of unfair evictions, losing a 13-year-old son to violence, the dispiriting frustration of trying to land a job after a youthful drug offense.
"Hear the stories," Barber exhorted the crowd. "This part of the program is to make you angry, with righteous indignation. We want you to hear the pain ... and be moved to action."
Soulidarity
Joining Barber on stage in Boston were Revival Tour co-leader Rev. Dr. James A. Forbes Jr., Sister Simone Campbell and Yara Allen, who led the singing. The event was co-hosted by the Boston NAACP chapter, the Fight for 15 campaign, and faith communities throughout greater Boston, including Bethel AME, UU Urban Ministry and First Parish in Bedford.