Deborah Riley Draper's 'Olympic Pride, American Prejudice' to screen at Vineyard film fest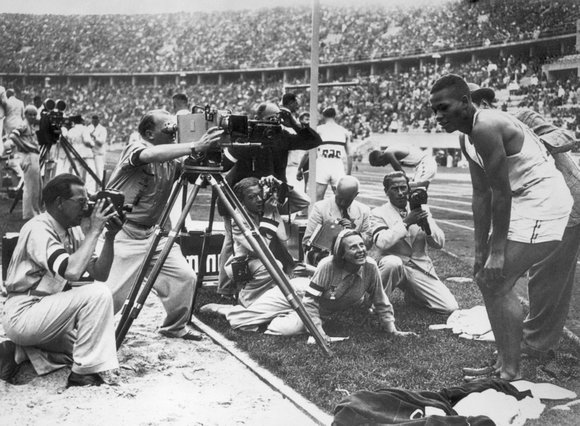 It's obvious that you're a very natural storyteller. You've transitioned from telling stories through ads to now telling stories through film. What has been the most profound change for you in that transition?
DRD: You know what has been interesting? It's personal. The storytelling is about people's lives, real lives; the people who have contributed to world history, American history, African American history, and the work that these heroes did. They impact me right now. I wouldn't actually be on this phone with you, if it wasn't for them. Not just because I'm telling their story but because what they did in the fight for equality and the struggle for civil and human rights. I'm driven by passion to understand my own cultural inheritance and the passion to tell the stories of the people who made a difference and have been ignored. They've been marginalized and their voices and their stories have been silenced. I've learned about myself that that brings me tremendous joy and I take great pride and I'm honored to be able to bring these stories to life. And that's the difference. And in the course of doing that I've met some incredible people who have been inspired and motivated about having heart and having perseverance.
How did Blair Underwood become involved in narrating the project?
DRD: Blair Underwood is one great human being. We asked him and he said yes after he saw the trailer. It was that simple and that easy. He was stunned as a student of African American history, and he is a great student of history, that he did not know the story because he takes great pride. He played Jackie Robinson. He understands the importance and he spends a lot of time with his kids helping them understand the importance. He didn't even know that Mack Robinson was on the team and Mack Robinson was Jackie Robinson's brother. When he saw the trailer he understood the thesis of the film. He said "yes" right away. He called back himself and said "yes."
The film screened earlier this year at the DuSable Museum of African American History in Chicago in conjunction with the Illinois Holocaust Museum and Education Center. How did that collaboration come about?
DRD: With my first film "Versailles '73" we screened at the DuSable Museum, and so when the DuSable heard about the second film they immediately wanted to bring it that February. We're like "we're not finished with the film" and they're like "we will take a work-in-progress screening but we want to do is actually have a cross-cultural interchange with the Holocaust Museum," and I said "absolutely." As a result, the Ohio Holocaust Museum heard about it so we ended up doing one in Cincinnati with the National Freedom Center and the Ohio Holocaust Museum, because there is a long-standing relationship between Jewish Americans and African Americans. And that relationship ebbs and flows throughout our history. There's some times where we're really in sync and then there's some times when we're not as in sync, and it was really important to revisit those moments, and particularly that moment in 1936 that both Jewish Americans and African Americans had very distinct roles and perspectives on that American team.