Drawn into the groove
Guitarist/vocalist Taj Mahal captivates Lexington audience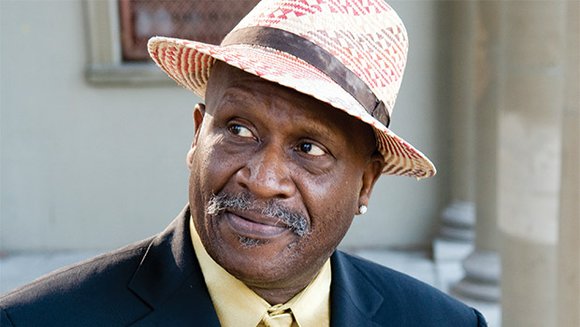 Sunny and soulful, the music of Taj Mahal has aged well, like the man himself. Friday night, the singer-songwriter, now 74, brought his infectious, blues-rooted songs to the Cary Memorial Building in Lexington.
The two-part concert, a presentation of Spectacle Management, began with a foot-stomping solo set by Worcester blues musician Big Jon Short. A public school teacher in Worcester who conducts the city's "Blues in Schools" program, Short entertained the audience with his lore as well as his full-bodied vocals and deft fretwork on instruments that included a hill harp fashioned out of a wooden cigar box.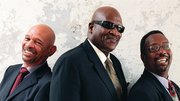 After a short break, the Taj Mahal Trio took the stage. Accompanied by drummer Kester Smith and bassist Bill Rich and surrounded by a battery of instruments — including steel guitars, a banjo, a ukelele and a dual piano/organ synthesizer — Taj Mahal sat on a stool and began a captivating one hour and forty-five minute set.
Wearing a Panama straw hat, a short-sleeved shirt and khaki pants, Taj Mahal drew the audience into his relaxed groove right away with his agile finger-picking, danceable rhythms and warm vocals, along with his easy interplay with Smith and Rich, longtime accompanists.

His speaking voice has gained a bit of a crackle over the years but his baritone was as smooth and mellow as ever as he performed 16 songs, many from his early albums, all infused with the sound of home and the ringing notes of steel strings that snap, shimmy and strut in his masterful hands.
World traveler
Home is a very expansive place for Taj Mahal, who in his 50-year career has reveled in mingling musical traditions rooted in African rhythms, African American blues and R&B with music of the Caribbean, South Pacific, Latin America and beyond.

The rural flavor of Taj Mahal's lyrics is not just an echo of Mississippi blues songs that inspired him. The multicultural eclecticism of his music, which celebrates the power of the blues and African rhythms to connect and uplift people, comes natural to him.
Born Henry Saint Clair Fredericks in 1942 to a gospel-singing mother and a West Indian father who was a jazz musician as well as owner of a construction company, the singer was raised in Harlem, where he heard blues on street corners and family barbecues. When his family moved to Palmer, MA, he worked on a farm and then studied animal husbandry and agriculture at UMass Amherst while continuing to make music and perform in his own band. In 1959, he adopted the stage name Taj Mahal, and five years later moved to the West Coast to pursue his career. By the early '70s, such albums as "Giant Step" (1969) and hugely popular outdoor concerts expanded audiences for his blues-inflected, joyful music. In the '80s, after making Kauai, Hawaii his home, Taj Mahal has continued touring worldwide and he has recorded more than 50 albums.
His current world tour includes other New England visits, including a free outdoor concert near his hometown, Palmer, at the Springfield Jazz & Roots Festival (www.springfieldjazzfest.com) on August 6.