Trailblazing entrepreneurs
Venture Café probes challenges to women in tech field
She also placed a high value on diversity in the creative and entrepreneurial processes as well, because it broadens the way companies can think about solving problems. Ultimately for Olson, engineering and science help businesses develop products that solve these problems, and the more different kinds of minds at work in figuring out how to do so, the more chance of coming up with something that actually works.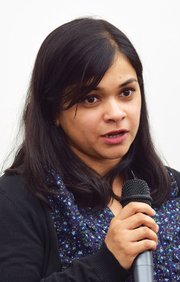 Promoting STEM
Northeastern's Balijepalli, who grew up in India and has a doctoral degree in neuroscience, said she believes it is very important to eliminate the stereotypes that keep young girls from getting involved in the science and technology fields. This includes attitudes such as math is only for boys or that if girls do science at all, it is only biology.
"If that is something we can change in middle school and high school then that will be useful because you will be able to recruit more girls later on in their careers," Balijepalli said.
While Upward Bound's Cox agreed with the importance of promoting STEM to female students she cautioned against trying to sell the fields as easy options. She has undergraduate and graduate degrees in engineering and said it has been a long hard road, though rewarding.
"If you want to be an engineer, if you want to start a business you have to be prepared to take on those hard challenges and not quit," said Cox. "There are going to be a million opportunities to quit, and not quitting is what is going to get you there. The habits of not quitting [for young students] and doing hard things and overcoming those things and sticking with it is what prepares students to do it."
All the panelists recognized the value of mentors or women that younger girls can look up to so that they know it is possible to enter science and technology fields and not be the only women in the room.
"Role models, a particular quote that somebody said, or an activity can often be the catalyst for life-long inspiration and change," Wu Davis said.