Kelley Chunn and Geri Denterlein team up for success
Achieving business goals through partnerships
Davis Rosen | 9/10/2015, 6 a.m.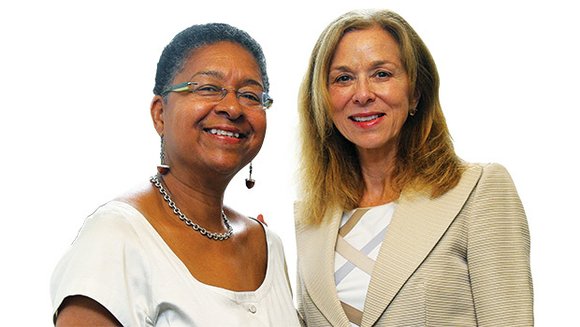 Two Boston women who left high-profile positions in broadcasting to launch public relations businesses have formed a successful uptown-downtown partnership to secure new clients and enhance their services.
Kelley Chunn and Geri Denterlein met back in the 1980s when they were colleagues at WBZ TV. Chunn worked in the news department and Denterlein was the station's editorial director.
Today Chunn is sole proprietor of Kelley Chunn & Associates, a cause-related communications and multi-cultural consultancy in Roxbury she established 23 years ago, and Denterlein is president of Denterlein, a communications, media relations and public affairs agency in Post Office Square that she opened 15 years ago.
While both women have achieved substantial success and recognition in their own right, they have found it advantageous to collaborate to generate new business and service certain client accounts.
The idea to join forces, hatched during a luncheon conversation five years ago, has proven to be a winning strategy, resulting in contracts with Mattapan Community Health Center, MassHousing, Roxbury Community College, Boston Public Schools-Edvestors and Dorchester Bay Economic Development Corporation.
"As a sole proprietor, the only way I can meet all the needs of my clients is to collaborate with other professionals," says Chunn. "Working with Geri and her team enables me to provide a full range of services.
She said working together positions them well to compete for new business using "an uptown-downtown strategy. I'm strongly positioned in the neighborhoods, and Geri is well connected downtown."
Unlike Chunn, Denterlein created a traditional agency that employs 24 professionals with a wide range of skills.
"Five years ago we hit a wall of sorts," Denterlein said. "We were having great success generating business in many sectors, but we had limited success connecting to the city's urban core. Teaming up with Kelley has enabled us to do this."
Denterlein said working with Chunn has also helped the agency achieve other goals, including hiring and retaining a diverse staff, becoming a woman-certified company and getting pre-certified to compete for large state contracts.
Both women say the success of their partnership is rooted in their shared values, complementary set of skills and personal chemistry. And, of course, mutual self-interest.
"Our collaboration works because we share the same values on issues like integrity and transparency and because we each bring to the table talents and experiences that complement each other," said Denterlein.

"The two women are working with Roxbury Community College on creating a magazine to tell the story of the academic opportunities available at RCC. In addition, Denterlein and Chunn have assisted in the development of a speakers' bureau and other communications initiatives that highlight activities around the campus, such as Roxbury Rocks Music Festival and the upcoming celebration of the Reggie Lewis Track and Athletic Center's 20th Anniversary Gala."
Asked whether women might be better suited than men to collaborate, Chunn said working together is "a double-edged sword" for women as well as men because "you have to get over the notion of competition and be able to cooperate." She added, tongue-in-cheek, "We did a bit of dating before we formed a partnership."
Denterlein responded by quoting former U.S. Secretary of State Madeleine Albright, who famously said, "There is a special place in hell for women who don't help other women."