Geeta Aiyer: A life of integrity
Entrepreneur fosters a business culture of collaboration and social justice
Marcy Murninghan | 9/10/2015, 3:57 p.m.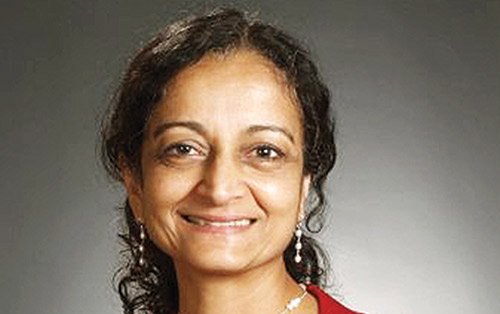 "Business and finance have a stake in maintaining great community environments," Geeta Aiyer said during a recent conversation about bridging the equity gap. Aiyer, founder and president of Boston Common Asset Management, oversees more than $2 billion on behalf of a variety of visionary institutional and individual investors who believe in the firm's integrated, successful model of engaged and sustainable global investing.
"We work to make a difference with the corporations whose stock we own, for what we consider valid business reasons," she said. "Not just to change them, but to change the dialogue and the systemic views that are prevailing — particularly regarding lack of opportunity and mobility, and the extreme inequality that we're seeing, within the U.S. in particular, as well as in the wider world."

At Boston Common, environmental, social and governance (ESG) research is combined with quantitative and fundamental analysis to build diversified portfolios of high-quality holdings. Boston Common also is a long-term, activist global investor that engages directly with portfolio companies to promote transparency, accountability and long-term thinking. The firm is a leader in the now-sprawling ethical investing industry, one that, at latest count, comprises $6.57 trillion in assets under professional management. That's one out of every six dollars invested according to socially responsible investment strategies.
Money for good
Aiyer has achieved great success in a field she helped shape, disproving outdated theories that "ethics" and "finance" occupy separate worlds. While she remains optimistic, she's also worried about the course on which this country is moving, that this isn't the America, land of opportunity and justice for all, which she envisioned when she moved here from India in 1983 to attend Harvard Business School, where in 1985 she received her MBA in finance. (She still has family in India.)
"We are given this opportunity to nurture this wonderful land of promise, embracing its possibilities, including all who are here, seeing our connected future," she said last June in her "Parents Address" at Buckingham, Brown & Nichols' graduation ceremonies.
Aiyer — a philanthropist and social activist as well as an entrepreneur and business leader — believes firmly in the role markets can play to improve society. After Harvard, she worked as a consultant at Cambridge Associates (1985-1988), a global institutional investment advisor. Around that time, she also founded a company called East India Spice, the first of several entrepreneurial ventures. In 1988, she moved to U.S. Trust where she was a senior portfolio manager for six years. She then founded Walden Capital Management and continued as its president following its sale, before moving on to launch Boston Common Asset Management in 2003. At both companies, she's fostered a business culture of collaboration and teamwork as well as social responsibility.
Boston Common is employee-owned, and supports paid time for employees to volunteer. It's also a place that seeks to redress systemic inequities in our society, particularly after the Great Recession. "We recently observed Stand Against Racism Day in our office," she said, referring to the national YWCA's annual event held last April.3 "We had a talk on the Federal Reserve study on the extent of net worth in racial and ethnic communities. Only eight dollars of net worth in the African American community! That gave everybody pause. Of course [African Americans] are worried. They're being left behind."