From classroom to college or to cell
Sheriff Tompkins holds forum on ending the school-to-prison pipeline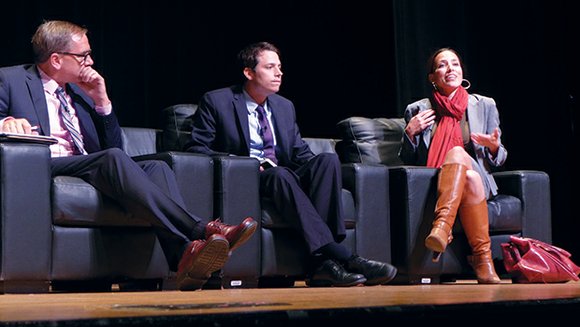 Saying he wanted to turn the school-to-prison pipeline into a cradle-to-career pipeline, Steven Tompkins, Suffolk County sheriff, convened a panel of education experts at Roxbury Community College last week. "The State of Education: A Conversation About Academics in The Commonwealth" forum speakers aired views on education improvements that could help keep youth on the right path.
"The education system is really going to be a roadblock to the incarceration system," said Tompkins.
Prison problem
The high rate of incarceration damages inmates and their families and is costly to tax payers. If new and stronger educational efforts can prevent individuals from entering the criminal justice system, the sheriff's department predicts the commonwealth would save tens of thousands of dollars.
It costs $50,000 per year to incarcerate an individual, Tompkins said. By comparison it costs approximately $14,000 to educate a child in Massachusetts, and about $17,500 in Boston, said Peter Van Delft, sheriff department spokesperson.
"Something is grossly wrong with the way we are prioritizing our dollars," Tompkins said. "Do we continue to warehouse people or do we correct situations?"
Dropped out and locked up
Education, especially college level, was cited as a major crime deterrent.
"We know if you stay in the system, you go to college, you don't go to jail," said Mark Culliton, CEO of College Bound Dorchester. CBD helps high school dropouts, including many gang-involved youths, get on the path to college. Those who wind up at the sheriff's department frequently are dropouts, Culliton said.
Preventing dropouts
Panelists shared ideas on what drives students from the education system.
Culliton said the major reason youths quit school is that they are unchallenged and adults expect too little from them.
"The number one reason people give for dropping out is not that it's too challenging, it's that it's not challenging enough. They're bored," he said. "Yet we have this notion that all these kids out gang-banging are not ready for college, are only for low-wage jobs."
Several panelists debated whether strict discipline rates contribute to dropout counts.
City Councilor Tito Jackson argued that suspensions deny students needed education as well as community and support services offered by the school. He said that frequent suspensions overburden parents who may be single or working multiple jobs, potentially forcing them to withdraw their children.
Will Austin, CEO at the Boston School Fund and one-time math teacher at Roxbury Prep Charter School, said strict discipline was not always harmful. He said an examination of a disciplinary structure's benefits and detriments must go beyond suspension statistics to look at the school as a whole. In the case of Roxbury Prep, Austin said, the suspension rate was high but the school boasted a low attrition rate, no felonies and a good attendance record.
Early intervention
Both Makeeba McCeary, chief of staff for Boston Public Schools Superintendent Tommy Chang, and Jackson pointed to pre-K as a way to curtail achievement gaps early in a child's life.
"When you start school early, it closes the equity gap around achievement and ensures you have access to high-quality education throughout your career," said McCeary.