Bus Rapid Transit studied anew for Hub
Dudley to Mattapan, Harvard seen as feasible routes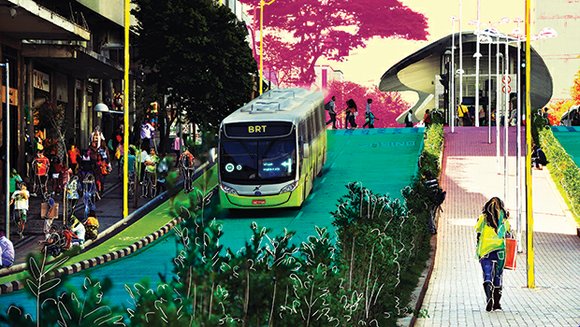 Lazu said neither she nor her organization are pushing BRT, but instead are working to ramp up the discussion.
"We don't know if the community is going to like this, but we think it's worth having a conversation. Our tweets are asking questions, asking what people think," she said.
Besides the Silver Line's quasi-BRT promise, other BRT proposals have been floated for Boston. In recent years, BRT was proposed for Melnea Cass Boulevard, but that plan has been put on hold in response to community concerns about widening the street and skepticism about the usefulness of a short BRT route.
In 2009, the "28X" proposal for Blue Hill Avenue, to be funded with American Recovery and Reinvestment Act dollars, was scuttled in the face of community reluctance, some of it general and some particularly around the difficulty of siting BRT lanes on the narrower Warren Street in Roxbury.
"With 28X," Skelton Roberts said, "I don't think there was enough time. There was some federal funding, so there was urgency. It looked suspicious. It seemed very solution-oriented, without input from the community."
Missed opportunity?
State Rep. Russell Holmes, whose was elected to his Mattapan district after the 28X rejection, still regrets that his community did not take advantage of the federal funds. He is pleased to see that the new report validates his office's findings on high rider demand along Blue Hill Avenue.
"I look forward to the discussions beginning anew. I think BRT would serve my district, my folks," Holmes said.
"There will be nothing smooth about this process, because of the history of 28X," Holmes added. [But] we need people to be able to get to the center city and to jobs faster."
Holmes was not part of the BRT Study Group, but will be among the community members and leaders heading to Mexico City with the Barr Foundation in November to look at BRT there. He said he did play a role in advising the Barr Foundation on engaging the community properly.
"I said, get into the neighborhoods, make sure you come at this by addressing what's important to the neighborhood," Holmes said. "You're going to need the will of the people to do this. And you have to show people what real BRT looks like."
Some events this month in Roxbury and Mattapan are intended to show what BRT might look like and spark community input.
In Mattapan Square on Oct. 22 or 23, Future Boston will facilitate an "information-collecting experience," Lazu said. The public event will include visual images of Gold Standard BRT lines and an artist-led "civic hack" to investigate transportation solutions. (Further event details will be posted at www.futureboston.com.)
In Dudley Square this week, MIT's Media Lab and Urban Studies and Planning departments are partnering with Nuestra Comunidad on a series of BRT modeling workshops Oct. 8–10 at the Roxbury Innovation Center, followed by a several-day public exhibit. To sign up for a workshop, see http://tinyurl.com/brttools or call 781-606-0278.