Liz Brunner
From the anchor desk to the board room
Edie Ravenelle | 11/4/2015, 1:18 p.m.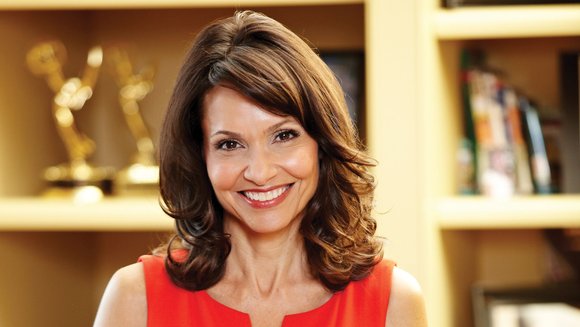 Striding into Starbucks on a sunny September afternoon in a sleek grey sheath dress, Liz Brunner gives me a hug hello and a, "Nice to see you again!" As a high-profile WCVB-TV news anchor, she had graciously served as mistress of ceremonies for three major fundraising events I managed more than a decade ago. This afternoon she's squeezed in our interview between serving as mistress of ceremonies of "Fenway to the Runway" (her 12th year with the Red Sox Foundation's signature fundraiser) and attending a Boston Women's Commission meeting (her second year on the Commission).
Just two years ago Brunner left her award-winning, 28-year on-air media career to found Brunner Communications, an executive coaching, personal branding and media training company. With the same engaging and polished energy that her WCVB-TV fan base adored, Brunner shared the steps she took to become her own boss. Her advice just might help you step boldly into your own entrepreneurial next chapter.
First, congrats on your two-year anniversary! How is it going?
Liz Brunner: Thanks! It's been an extraordinary two years and I feel so blessed and fortunate to have been able to leverage my media career into a business I'm so passionate about. People keep asking me about how my business is doing, and I'm proud to say that it's more than doubled since last year. I work with some tremendous clients — Deloitte, Morgan Stanley and Liberty Mutual — and now I'm traveling all over the country for corporate workshops, women's leadership initiatives, speaking engagements, university-to-career workshops, and one-on-one coaching.
What has surprised you the most about launching this new professional chapter?
LB: How scared I was, initially; how unsure I was of what I wanted to do after WCVB. Believe it or not, I was never someone who wanted my own business. Owning your own business is not for the faint of heart! It takes a tremendous amount of courage and I, personally, truly felt like I was jumping off a cliff without a parachute. What if I failed?
So I started talking to people I knew and respected about what skills they thought I had, how they saw me and what I had to offer the business world. That helped me clarify what I wanted to do and to 'see' how I already had the skills I needed. I just needed to translate those skills from media language into business language. For example, managing a breaking news story is a lot like managing a corporate crisis. One of my mentors said, 'You're well-known, well-respected, and credible. Why would you give that value to someone else? Start your own business!'
If someone with your successful career was unsure of his or her next step, what hope is there for the rest of us to go forth with entrepreneurial confidence?
LB: Every single person, no matter how successful they are, needs to be thinking, 'What's my next chapter?' People are almost universally afraid to think outside the box. I'm constantly telling people — especially young women — to find mentors they can learn from and to network, network, network because it will open doors they never imagined. And to be a mentor to others, too.