Bike repair and coffee shop slated for Upham's Corner
Team to redevelop historic comfort station building in Dorchester
Eliza Dewey | 6/18/2015, 6 a.m.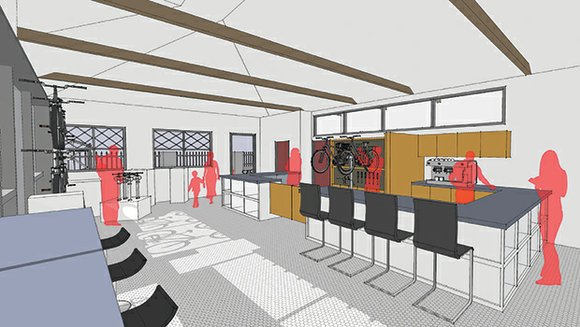 The long-abandoned comfort station in Uphams Corner – once a stop for early 20th century travelers looking for a place to rest and regroup, but boarded up for the past 40 years – will soon be transformed into a combination bike shop and café. The venture, appropriately named Bike Kitchen, is the latest venture of local bike enthusiast Noah Hicks.
Hicks, a native of the Bowdoin-Geneva section of Dorchester, has an established background in bikes. He started the Bowdoin Bike School in 2013 as a place where local residents could learn to fix, repair and maintain their rides. That establishment will remain in place as he expands to create Bike Kitchen – his first foray into the restaurant business.
He envisions the new shop as a way to combine several different concepts.
"Bike Kitchen will be a watering hole and meeting spot," he says, sharing future program ideas such as book readings and discussions on topics like cycling history.
He's especially passionate about the meaning of the new business for local young people.
"As a youth from the community, it's exciting to know that not only will I train people in a marketable skill, but I can offer people economic opportunity and employment," he says.
Hicks says soon he will recruit a staff member to help run the kitchen, describing the ideal candidate as someone who is "passionate about food and beverage, especially coffee."
He notes he'll also need an additional mechanic to help run the bike shop so he can split his time evenly between his various ventures.
Bike Kitchen isn't Hicks' only recent venture. Recently he opened a second location for Bowdoin Bike Shop on New England Ave near Codman Square. A grant of $10,000 from the Boston Alliance for Community Health will underwrite three seasonal employees there for the summer. He's also preparing an upcoming mass bike ride through Dorchester this summer, ending at Tenean beach.
He says that Bike Kitchen is just the next step in what he sees as a long-term growth process.
"After this, who knows?" he muses. "I'm looking to grow, I'm looking to create more wealth in the community."
Preservation and renewal
The comfort station was placed up for bid by the city last September, with the condition that its new owners must keep the historical structure largely intact.
Historic Boston Inc., a nonprofit preservation and real estate organization, partnered with Hicks as the developer and long-term owner for the property. HBI executive director Kathy Kottaridis said the comfort station held historic significance for the area.
"Reactivating the Upham's Corner Comfort Station preserves a rare surviving building associated with the MBTA streetcars that once lined Columbia Road," she told the Banner.

"For Historic Boston, this plan also demonstrates that preservation is not incompatible with the city's growth. In fact, re-using this building for a new green business operated by a young local entrepreneur suggests that our past can fuel future growth," she said.
The nonprofit organization The American City Coalition also is involved in the project as a provider of technical assistance.